Saturday August 08, 2015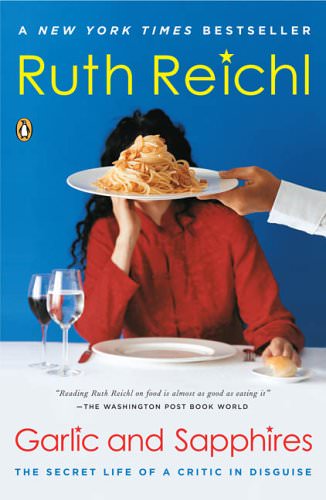 Garlic and Sapphires: The Secret Life of a Critic in Disguise
In Garlic and Sapphires, Ruth Reichl has the reader hooked by the first page, working through the inedibility of her first food description: "... a squishy brown square of meat surrounded by a sticky stockade of potatoes that might have been mashed last year. The wrinkled gray peas look as if they were born in a laboratory test tube. The roll glows with such an unearthly lunar yellow that I can feel its chill before my fingers even touch the surface. The lettuce in the salad has gone brown at the edges, and the tomatoes are too tired to even pretend that nature intended them to be red." Reichl, however, moves quickly past this vignette and the immediacy of the food itself, and delves further into the book's primary focus: the importance and challenge of anonymity in being America's most well-known food critic.
She reflects upon her hilarious and heartfelt experiences in some of the greatest restaurants in the world, all the while trying to navigate the intersection of public and private life. She supplements this narrative focus with deliciously elegant but approachable recipes, giving the reader a greater understanding of the techniques and flavors Reichl puts to paper. The book's final recipe, "Last-Minute Chocolate Cake" speaks for itself, with the spice of the unsweetened chocolate, the intensity of strongly-brewed coffee, and the contrastingly sweet bitterness of Grand marnier, all it needs is "a scoop of vanilla ice cream on each slice" to result in something worth writing about.

From her writing, it's obvious that Reichl is a profound appreciator of food, and a lover of the joy it brings to her everyday life: "My yogurt was nestled into a bag, waiting to turn into aushak, and all around us were sausages and pastry, lollipops and spices, chicken and cheese. Any world that contained all this, I thought surveying our loot, was a very fine place. I felt reinvigorated, alive, optimistic. The thought of getting back to work suddenly seemed like fun." Because the reader is introduced to this perspective so early on, we ask the same question Reichl tries to understand herself: how do you tell someone what they should know about a restaurant, and more importantly, the food they will eat there, if everyone is lingering behind your back watching you do it?