Friday July 06, 2012
"Come y bebe, que la vida es breve" ...my madre española, or Spanish host-mom, used to say this phrase to me as we would sit down to eat. Translated it means "eat and drink because life is short". I was fortunate enough this last year to spend nine months living and studying abroad in Barcelona, Spain. As you can imagine, it was an amazing and life-changing experience. I could go on-and-on about Spain and its interesting history, unique culture and amazing food! Spain is somewhat of a "hidden treasure". Most people seem to pass over it during their travels and only in recent years has it started to gain recognition. However, after having lived there I have learned how vigorously Spain maintains and treasures its traditions and culture. Ironically, or tastefully in my opinion, many of Spain's traditions revolve around food. To begin with you have the traditional paella; historically a workman's meal that is eaten year round and continues to appear at every town's Fiesta Mayor (Major Festival). When made for these festivals it is large enough to feed thousands of people! Beyond the Paella, Spain is well-known for its Sangria and Tapas dinner (an appetizer-style dinner). And finally each holiday has some kind of traditional food to go along with it. The Spanish are fond of food and love to dine-out with friends. Nevertheless, some of my greatest food memories were at home around the table of my madre española.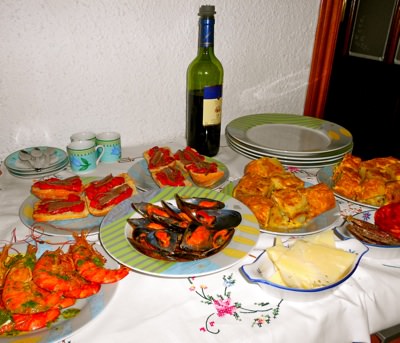 (A traditional Spanish meal my madre española made.)
Spain's food scene is uniquely diverse. Each region has its own specialties. Living in Barcelona I was in the providence of Cataluña, a politically and culturally unique area from the rest of Spain. However, my padres (Spanish host-parents) were from Valencia and so I got to see a unique blend of the Spanish food traditions. From the time I arrived my madre introduced me to a plentiful array of Spanish food and eventually let me assist her in the kitchen (a rare occurrence by a Spanish madre). The kitchen was my madre's domain and it was how she showed her love and affection for those closest to her. It was over the food that I bonded with her. I spent many days sitting on a little stole in the kitchen watching her cook and talking with her. She loved food and was particularly appreciated really good, fresh pan (bread) doused with good Spanish olive oil. Almost every morning she would wake-up and go down the street to retrieve freshly baked pan. Greeting people along the way she had been going to the same bakery for the past 30 years and the family considered her a friend. Some mornings she would come home with a surprise croissant for me. I am convinced that Cataluña has better chocolate croissants than France. You may hesitate to agree but Cataluña is known for its bakeries and I could not stay out of them!
One of my favorite things about the Spanish cuisine is the freshness of the food. Each neighborhood has their own Mercado (Market) heaping with fresh fruits, vegetables, fish and meat. During our trips to the Mercado my madre taught me the best tomato is always the heaviest one because they have the most "meat" to them. The Mercado was a meeting place; everyone knew each other and in addition to the food stands there was a bar where people would grab lunch or coffee after their shopping trip. My madre was an amazing cook but the fresh foods only made it better. Often while I sat in the kitchen watching her cook she would come up to me, place a tomato below my nose and tell me to smell its freshness. As I sit here trying to think of my favorite dishes my madre would make I think of the traditional Spanish flavors such as garlic, olive oil, chorizo, rice, onions, seafood, etc. The Spanish flavors remain a prominent memory in my mouth but it was the approach my padres (host-parents) and other Spaniards have towards food that I'll carry with me.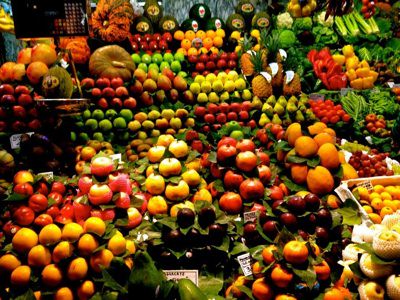 (Fresh fruit at one of Barcelona's Mercados)
I would frequently come home between classes to sit down and eat lunch with my padres. This is a common practice in Spain and children still make their way home from school to eat lunch with their families. While in Spain I learned how to slow down and appreciate the simple things. For the Spaniards, sitting down to a meal or having something to eat is not just another check on their 'to-do' list but is something to enjoy. I've make a pact with myself that as I return to Smith College this coming year I will make an effort to sit down for lunch with friends as often as possible. I want to take that little extra time to enjoy the food and the people instead of racing off to complete the things on my checklist.
As I finish up this blog post I must admit that I have only brushed the surface of Spanish food and its culture. If I had more space I would talk about their unique summer dishes such as gazpacho or jamón iberico with melon. I would share the uniqueness of the Catalan pastries in their bakeries and the sweets they made for different holidays. There are also fun, little stories behind different dishes and Spain is brimming with freshly cultivated foods. The more I learned about Spanish food while I was abroad the more I wanted to know, and the more I realized how connected food is to culture. So much of understanding the Spanish culture is understanding the food and the customs around it. For the Spanish, food is connected to tradition, history, family and friends and it is an experience that should be enjoyed everyday. As my madre would say, "Come y bebe, que la vida es breve". After hearing this for nine months I don't think I can approach food in any other way!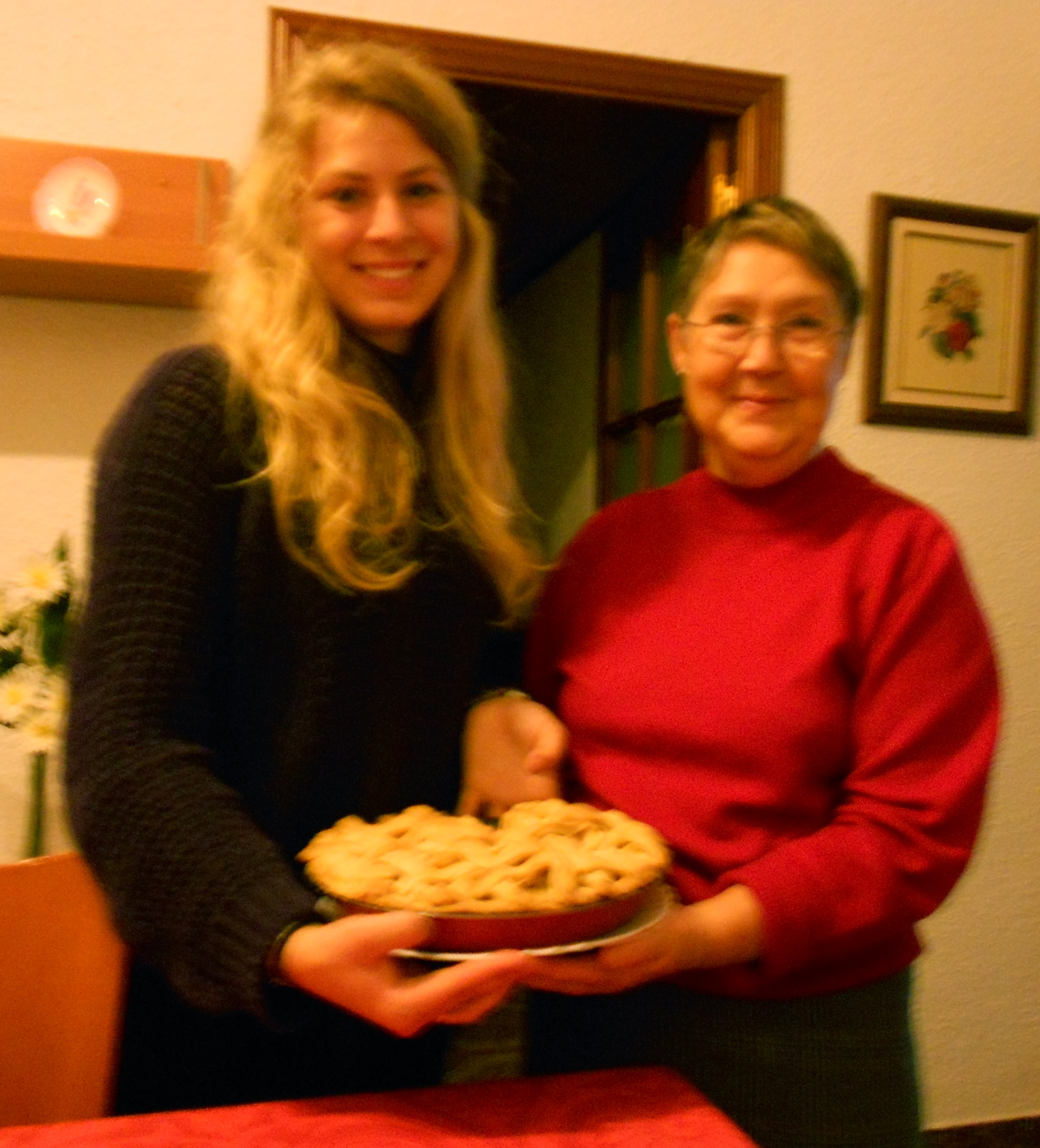 (My madre and I when I showed her my family's apple pie recipe)