Sunday July 01, 2012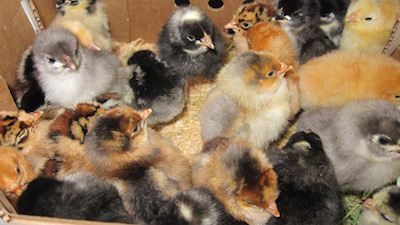 Our girls are old and their egg-laying has tapered off quite a bit. So, I bit the bullet and ordered the "rarest of rare" mix of chicks from Murray McMurray Hatchery. I was expecting them tomorrow but I received a call from the kindest person from the Pittsfield Post Office. She said they'd be at Stockbridge tomorrow but if I wanted to pick them up today, she would wait for me to come get them. All I needed to do was call her cell when I was outside the PO. Her kindness resonated with me. I jumped in the truck with Mia and headed up to Pittsfield and now the adorable balls of fluff are peeping happily in my kitchen..AHHHHH...the wonders of farming life!!
And Becky Narum couldn't resist picking up and loving one of the chicks. Love at first sight!!