Saturday October 24, 2015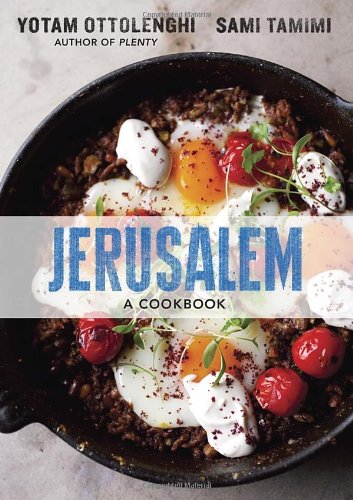 Jerusalem: A Cookbook
"The beauty of food and of eating is that they are rooted in the now. Food is a basic, hedonistic pleasure, a sensual instinct we all share and revel in. It is a shame to spoil it."
The best way to know a country, region, or city is through its food. However, one may seem at a loss in trying to set Jerusalem in such definitive constraints. The city is challenging to unify in a sweeping description of its cuisine and culture, but in Jerusalem, with authors Yotam Ottolenghi and Sami Tamimi being born in opposite ends of the city, we are given two different outlooks on the city and its culinary offerings.
In the introduction, they define the essence of Jerusalem, saying it is made up of "very personal, private stories immersed in great culinary traditions that often overlap and interact in unpredictable ways, creating food mixes and culinary combinations that belong to specific groups but also belong to everybody else." With this, we quickly realize the book's paradox: that all the different ingredients and traditions centered around food are brought together by one central similarity: place.
The local cuisine is challenging to identify, but once you break apart the varying layers of culture and influence, you find that it's not impossible to discern. Ottolenghi and Tamimi note the specific consistencies a shared location permits: the universal use of chopped cucumber and tomatoes to make a salad, the reliance upon vegetables stuffed with rice and meat for a hearty meal, or the incorporation of olive oil and lemons into almost every dish.
Spices abound in the Roasted Eggplant with Fried Onion and Chopped Lemon, with green chiles, cumin, sumac, and a saltiness supplied by large chunks of feta cheese. Coarsely-chopped lemon adds a final hit of freshness to this starter. They suggest pairing it with a lighter main to balance out the heaviness of flavors that gives the recipe its appeal.
The section titled "Stuffed" pays tribute to one of the traditional cooking techniques in Jerusalem. My favorite recipe is the Stuffed Artichokes with Peas and Dill. A mixture of blanched leeks, ground beef, egg, spices, and mint is loaded into artichoke bottoms and fried in hot oil just until the flavors start to seep out of the pan and cause you to salivate in anticipation. The artichokes then simmer away for an hour in a mixture of stock, lemon juice, and oil until the liquids have been reduced to a mere several tablespoons. The result is a dish bursting with flavor and a plate vibrant with greens. Served alongside Basmati rice and orzo, this is a meal that defines a city.
The desserts are a collection of pastries and confections that are not nauseatingly-sweet but rather prepared so as to bring out their natural flavors, like the Poached Pears in White Wine and Cardamom. In the headnote, the cardamom is described in its similarity to allspice and cinnamon, possessing its own powerful aroma which brings greater dimension to the fruit. Poaching the pears with this spice in conjunction with the fresh pungency of white wine and the final intensity given in just a half teaspoon of saffron threads gives you a beautiful, bold color and a satisfying dessert that calls for only a dab of crème fraîche spooned over top.

In Jerusalem, we get a sense not only of the foods specific to this city, but of the people and the unique lifestyles that have been preserved here for so many years. We can amass different recipes and techniques to try to create a culinary profile, but this seems impossible with so many. Ottolenghi and Tamimi do their best, but they accept that Jerusalem is a city rich in different cultural traditions with a collection of flavors to match.