Tuesday October 20, 2015
Join me and the Kitchen Play bloggers (#TeamFreshSummit) to learn about these four brands before we all head down to Atlanta for Fresh Summit. There are PRIZES and tons of fun to be had!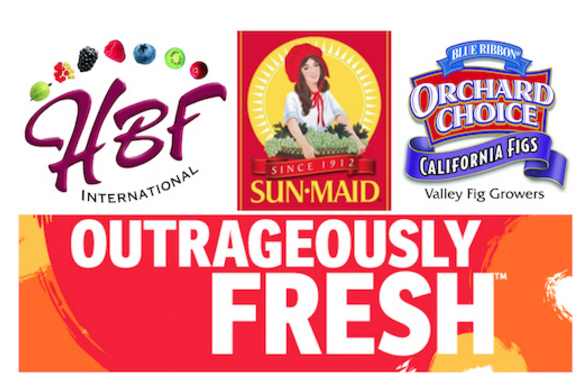 HBF International - aka Hurst Berry Farms - grows blueberries, blackberries, raspberries, currants, cranberries, and their newest crop, kiwi berries. With their farms in Oregaon, Washington, California, and Mexico; they keep all these berries on our tables year-round.
Sun-Maid - to me, Sun-Maid needs no explanation. Those small red boxes were a mainstay in my lunchbox as a kid and my love affair with raisins has never ended. So delighted to share their goodness with all of you!
Valley Fig - this is a jackpot for me. I adore dried fruits and, especially figs. Valley Fig Growers has an assortment of dried figs and fig spreads. Enjoy this natural way to satisfy your sweet tooth!!
Outrageously Fresh - Fair Trade Certified, Outrageously Fresh products include organic and conventional red, yellow, and orange sweet bell peppers and mini peppers, long English and mini cucumbers. As well, conventional tomatoes-on-the-vine, cocktail and new snacking tomatoes including grape, cherry and a gourmet medley mix. You can find more about them here and here.