Saturday August 18, 2012
Heirloom Meals is all about the family coming together and uniting around food. This past weekend the maternal side of my family did exactly this as we all gathered at a lake resort in Northern Minnesota for a family reunion. This is the second time this reunion has taken place in what we hope to become a traditional gathering every four or so years. As time progresses the cousins that make up the "3rd Generation" seem to get older and move away, everyone's interests and commitments expand, and it becomes harder and harder to all get together. Reflecting on those realities, our family it is quite amazing in that we were all able to make it, 50 people in total. This included four generations, people from out of state and even my aunt's family coming all the way from Norway. Our family continues to embrace the loving, big and fun German-Catholic, Minnesotan family paradigm which has defined us from the day we landed in America. At the same time, as our family expands, new cultures, personas, interests and experiences our introduced and I see them being embraced whole-heartedly.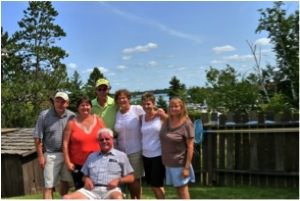 The "original siblings" and their dad (my grandfather).
Our family spent each day together sharing in different activities and reuniting in the evening around the dinner table. We were all together for two nights and divided the task of cooking equally, organizing ourselves around the boundaries of the 2nd generation families. There are six of the "original siblings", as we tend to call them, consisting of my mom, her three sisters and her two brothers. Three families were in charge of cooking the first night and three the second night. On top of making the food we were required to have some sort of a theme for our dinner. Food is not just a supplement in our family gatherings, but a focal point in which we all come together and enjoy great company. As families, we began planning these dinners and dinner themes almost three months ago once we decided who would be cooking with who.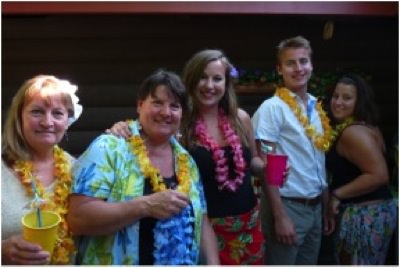 All dressed up for Hawaiian Night
The first night was Hawaiian Night and we dressed up with leis and flowered skirts. Dinner consisted of home-made pulled pork, roasted vegetables and the specialty drink of the night called "Bootleg". The second night was themed "Birthday Party" with the intention to celebrate all of our birthdays which we don't get to celebrate together during the year. However, once dinner began we learned that the Happy Birthday theme was actually a disguise, allowing for a surprise 30th anniversary celebration for my aunt and uncle from Norway. My aunt Connie married Olav, a Norwegian farmer, almost 30 years ago and moved to Norway. Although they have consistently come back and visited the family, they have never been able to celebrate their anniversary with the family.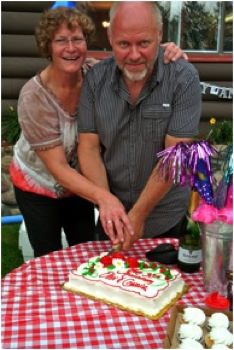 Connie and Olav cutting their 30th Anniversary Cake
It was so fun for me to attend this family reunion. Although I had seen everyone sporadically since our last family reunion, being together allowed me to see how our family has evolved as a whole. One of my favorite moments at the reunion was when I caught my grandfather sitting back, watching and absorbing the festivities; one could immediately see the pleasure and pride on his face in having four generations of his family all together in simple celebration of our common bonds. I don't think it's very often that a family comes together like this and I feel so blessed to be a part of it. It is amazing!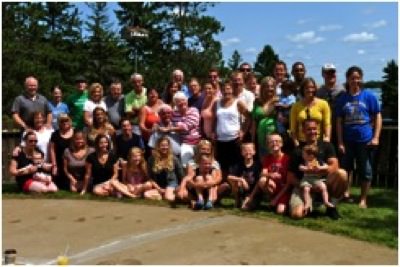 The whole Radermacher family
I remember going to family reunions when I was a child, organized by my grandfather and his siblings, and including their children and grandchildren. Now to see my immediate family, and my cousins continue the traditions with the same veracity is remarkable; I can only imagine how my grandfather must feel.
For those who may not have read my previous blogs on Student Saturday, I spent the last academic year abroad in Spain and interned at Heirloom Meals this summer. During my year abroad I realized how special my family is to me, and during my summer at Heirloom Meals I was able to explore and hear the stories of my own family's roots, heritage and history. It was cool to come back from these experiences to a big family reunion and appreciate everything first-hand. Life may get crazy and busy, but for me at the end of the day I can always come home to have "dinner with the family" and I love the thought of that.