Saturday December 05, 2015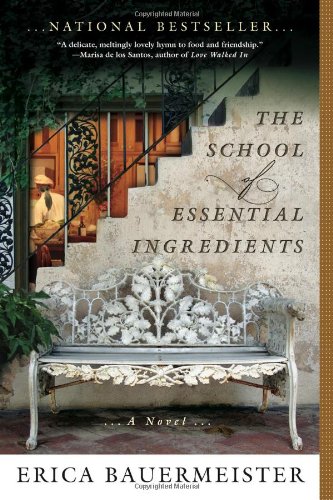 The School of Essential Ingredients
The School of Essential Ingredients has no recipes. What you'll find instead is a story of eight individuals, separate in their own stories before quickly coming together as they congregate in Lillian's restaurant for cooking class. Each has their own chapter, a narrative that gives the background of their lives before entering the school. The characters intertwine their idiosyncrasies, mixing together just as the ingredients come to form a homemade pasta or biscotti to end a non-traditional Thanksgiving feast. I still consider it a cookbook though, as it promotes how I believe food should be taught. The reader isn't given a clear-cut formula for specific ingredients but rather a way of understanding how food connects to every facet of our lives.
Erica Bauermeister gives a tender, affectionate voice to each of her characters, using the progression of their growing familiarity with food and with one another. As we get further into the book, it becomes obvious though that the class and Lillian's instruction goes beyond taste and texture alone. The therapeutic stirring of ingredients works to heal the once-broken hearts and the isolated souls looking for a companion. My favorite line comes near the end, as one student reflects upon all they have each gathered over the class' duration and all they still have left to learn: "Watching the other members of the class, he found himself wondering where they had come from, what it was they brought with them, as if they, too, were recipes he might come to understand."

The School of Essential Ingredients asks its readers to give themselves over to the curative effects of food and to allow their palates be their guide. It's a non-cookbook making the argument that if you follow your intuition and respond to food's subtle suggestions, you may never need a recipe again.