Saturday November 21, 2015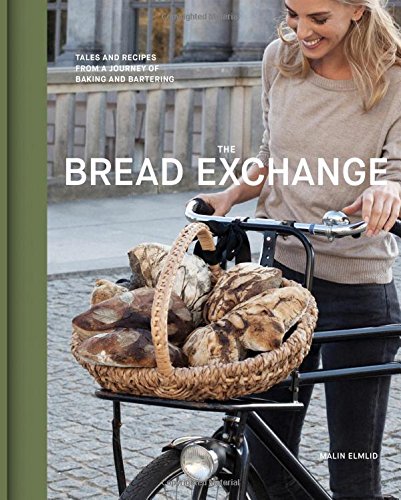 The Bread Exchange: Tales and Recipes from a Journey of Baking and Bartering
When we think of things traveling across the world, reaching every possible destination, we imagine people, ideas, or political movements, but rarely a sourdough starter. The Bread Exchange founder, Malin Elmlid, uses her book of the same title to suggest that food has just as profound, just as far-reaching effects, as all of these. She shows that anything, a story, a recipe, an experience, can be a proper trade for bread. This gives value to all of our pasts and all of our lives. Food is the great equalizer, putting us on the same level, saying that someone's joy is not more well-deserved than another's or that someone's loss cannot be more devastating than your own. We each have histories to offer, our own take on bread that differentiates but connects us all.
Malin's love of bread grew from an absence of it, as she followed along with her fashion industry co-workers in refusing carbs to maintain the proper physique for their job. Throughout all of this, Malin suppressed her love of a good crust and tender interior by committing herself only to what she considered "good" bread -- well-made, with time, love, patience, and care. As she traveled for work, seeking out cities' best bread became a passion, an obsession. But when she discovered a deficiency of it in her own city of Berlin, she got to baking herself and giving it away to friends and friends of friends, forging connections and building a network around bread.
The Bread Exchange is more than a recipe book; it is a bread baker's bible, with Malin preaching that: "Good bread is nothing more than flour, water, salt and dedication. It takes time, but the joy and pride you will get from eating and serving your own bread is incredible." Malin starts with in-depth instructions for how to make your own bread, organizing these tips under headlines like "Making a Starter", "Fermentation", and "Tasting". She proceeds from here with descriptions of and the recipes from each of her trips. Her Berlin section includes a Fig Confit offered up by her friend Anna Küfner, who wanted Malin's bread as a part of a gallery opening she was catering. She names it "the ideal accompaniment" for a strong goat cheese or a pungent blue.
Stockholm features photos from a boat deck picnic spent with friends on the open, glistening water. An overflowing plate of Crayfish from Smaland dominates the center of the table. Sweetened with a little sugar and flavored by paprika, dill, and the heft of two lagers, this makes the perfect communal dish for loved ones to share.
When Malin comes stateside to California, her traveling seems to take a more leisurely pace, set back in tempo by Sourdough Pancakes from a former venture capitalist, Vegan Banana Bread, and Kale Salad. Pictures of water creeping up on the beaches' smooth sand confirms the slow-living mentality of this part of the world.
Pages of photographs share the countless journeys Malin has taken, the people she has met in dozens of cities, and always a crusty loaf, boule, or unbaked dough scattered about the mix. The book ends with brief profiles of all the recipe contributors. With different approaches to greeting the camera and different gifts to share, these people, by Malin's guidance, have created a curated cookbook like no other. It is the product of what we all have to give of ourselves; it is a gift. Just like bread.
"... as anyone who has made an exchange will tell you, it is a wonderful feeling to trade something you've made or done that is good enough to share."