Saturday July 11, 2015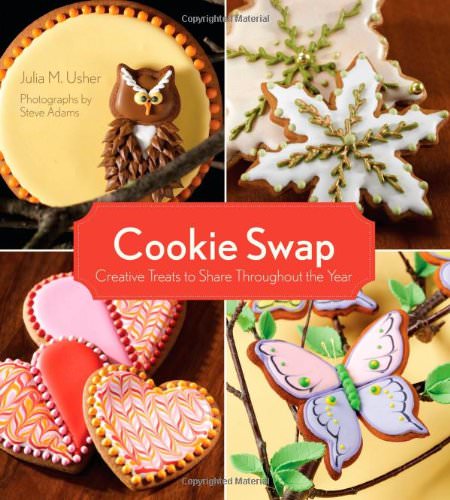 Cookie Swap: Creative Treats to Share Throughout the Year
Cookies are often described as the single baked good you cannot mess up. With all of the variety in technique and design, I'm sure there's more than a few places where you could go wrong, but all of these options allow for freedom and ingenuity in your cookie repertoire - which is exactly what Julia Usher takes advantage of in Cookie Swap.
Her creations are colorful, ingenious, and almost too-beautiful-to-eat. Detailed photos complement the recipes, enticing you to make her Lemon-Thyme Bonbons and eat them all yourself. Julia also warns you with the complexity level of the cookie, the amount of active time the recipe requires, and a few prep tips, so you know what you're getting yourself into before you start.
Recipes are categorized by reasons to celebrate, with eight different swaps that designate appropriate cookie varieties for a garden party and pairs these with adorable DIY save-the-dates and crafts that continue upon the theme. I have the "Affair of the Heart" theme marked off for a Valentine's Day swap (I can't wait to make the Gingerbread Valentine Invitations come February!) as well as the "Deck the Halls" party to give some glitz and glam to the holidays, because who could resist Eggnog Cheesecake Streusel Bars?

Cookie Swap covers all elements of a party, from the decorations to the treats. With all of her amazing confectionary creations, Julia Usher proves the point that cookies can (and do) make the party.