Saturday July 11, 2015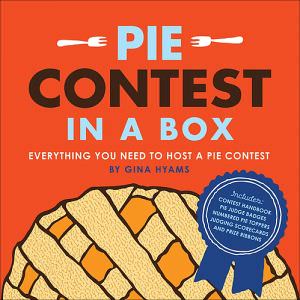 Pie Contest in a Box: Everything You Need to Host a Pie Contest
What could be more fun than gathering with friends and family to sample delicious pies? Gina Hyams couldn't think of a better reason to celebrate! With her Pie Contest in a Box, she gives you everything you need to host an all-American pie contest. The kit includes a contest handbook, badges for the pie judges (a job everyone wants!), scorecards, and ribbons for the best-tasting pie.
What I most enjoy about Pie Contest in a Box is that it honors the tradition of pie baking, allowing contestants not only to showcase their delicious creations, but also to share the stories that are associated with their pies. The kit's accompanying book explains the importance of pie, saying that "Pie contests are a way for families and communities to unite on common ground. You might fight about politics or religion, but everyone agrees that pie is good." The goal of this kit is supports Heirloom Meals' mission because it emphasizes the community that food can build and the stories from the past that get shared along with it.

Pie Contest in a Box is a way to honor friends and family members for their secret pumpkin pie recipe beyond your second slice at Thanksgiving. Gina sees food not only as nourishment, but as love, an emotion that is most easily communicated in offering forth a piece of pie.