Saturday January 02, 2016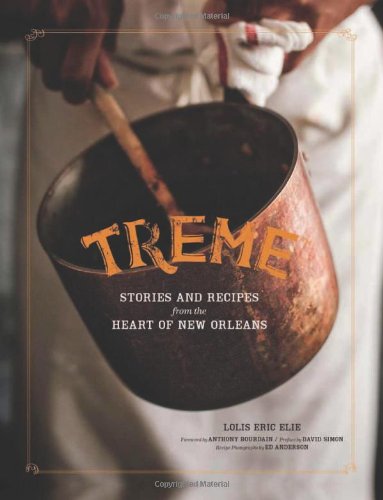 Treme: Stories and Recipes from the Heart of New Orleans
New Orleans is a strong and spirited mix of history, music, and food. It is a city about energy and flamboyance, always trying to give those who visit the best experience possible. In the introduction, Janette Desautel credits the infectious passion of the city's chefs, bakers, and home cooks as the reason for her picking up the trade as well. Treme's dedication is consistent with these feelings, explaining that the delicious food comes from the stories behind it and the people who want to keep this image of New Orleans as a culinary capital alive:
"To the cooks of New Orleans [...] who understood and taught us that red beans and rice is a taste of home, a sacramental dish, a statement of what is good and necessary about New Orleans, and a full-throated declaration about why rebuilding this city and its culture was and remains a matter of great urgency."
Dreams of buttery brioche dance in my head when a bread basket gets passed around at dinner. Chef Susan Spicer's Sweet Potato Brioche fulfills this request. Rich from six large eggs and a tender, chewy crumb from a purée of roasted sweet potato, rolls of this emerge from the oven in their bright and glistening glory. The artisan technique behind this recipe evokes the immense care New Orleans bakers give to their breads and sweets. They are patient with the dough, allowing it to rise in soft pillowy peaks for hours, knowing the final result will be worth the wait.
Though some recipes, like Momofuku's Poached Eggs with Caviar or Le Bernardin's Pounded Tuna with Foie Gras, give an idea of the culinary grandeur this city has reached, others revert back to the homestyle favorites, like Chef Frank Brightsen's Banana Bread Pudding. Bread pudding is something you'll find in every New Orleans restaurant, gussied up or dressed down, in all its eggy splendour. Brightsen prefaces the recipe by saying that "Bread pudding is the most traditional of New Orleans desserts. As French bread is served at most New Orleans meals, there is almost always leftover bread that turns stale. This is the perfect way to utilize that …"
A two-page spread is dedicated to "The Food of the Streets", where Janette Desautel explains the cultural and economic importance of street vending for the city. For African-American women, both free and enslaved, it served as a financial opportunity. She also highlights Arthur "Mr. Okra" Robinson, who sold produce from his truck all throughout New Orleans, calling out the day's pickings to potential customers. When his pick-up broke down, the city came together to raise money with benefits and donations that bought him a new truck and allowed him to continue to sell his produce -- a perfect example of how New Orleans supports and cares for one another. The street food scene holds Latin influence as well in the many taco trucks that frequent the city. With so many diverse options, finding something to eat, well-made and delicious, is never a challenge in the Crescent City.

Treme is a beautiful mix of recipes and their contributors' voices, explaining what the foods mean to them and how they represent their image of New Orleans. Toni Bernette admittedly states that he is not a great cook, but that he hates bad food and "wouldn't knowingly give you a recipe for it". This sentiment results in a simple formula for Pecan Pancakes -- the perfect Sunday breakfast, spent outside on a warm New Orleans day.