Monday June 15, 2015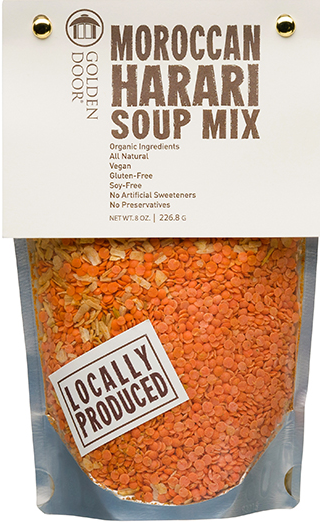 When the box of Golden Door Spa food products arrived, I was excited to see that the ingredients are all organic and locally sourced. Kudos to the Golden Door! As many of you know, I eat a very clean, organic and primarily local diet. It all began as a kid with my live-in Italian grandparents and it now it is paramount in my life because my husband Jim has celiac disease and I have some weird stomach issues.
So, how do I create a recipe that is both a nod to my Italian past, and embodies my current restrictions and my philosophy? Easy, peasy! I took one look at the packages that arrived and knew I would use the red lentil soup mix: Moroccan Harrari Soup Mix.
I am an old-fashioned concoctor. I mostly cook by feel, flavor and what I have on hand. I keep a rather stocked pantry and fridge, so I can run wild most days!! I had some cooked jasmine rice in the fridge. So, it occurred to me that if I made the soup recipe and added the rice and let it simmer for a while, I would have the consistency of risotto. And who doesn't LOVE risotto? Better yet, who doesn't like leftover risotto re-imagined as "Arancini" – risotto balls or cakes? So, this recipe is really a two for one!! First by simply adding the rice, we create the Moroccan Harari Risotto and then with the left overs, the arancin! I love getting two meals out of one dish!!
So, I present….The Golden Door Moroccan Harari Arancini….golden fried balls of perfection. The Moroccan flavor profile that Chef Michael Stroot created combined with a little Italian juju…… and voila. Truth be told, I didn't want to challenge the wonderfully balanced spice blend that Chef created. The hints of coriander, fennel, cumin, cinnamon, paprika, black pepper, turmeric, salt, red chili, onion and garlic were enough to carry the day. I just doctored them up to provide a different delivery vehicle!! And I didn't have to do much. Some rice, cilantro, red onion, mozzarella cheese and gluten free breadcrumbs.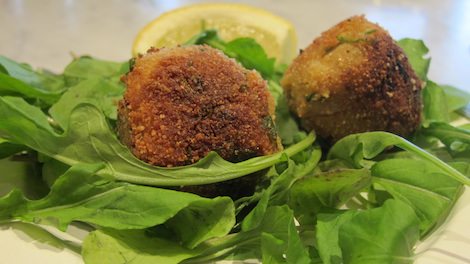 They are as delicious as they are inviting. I had to slap Jim's hand as he went to grab one before I finished cooking all of them. I served them with a lemon wedge over an arugula salad dressed with a little olive oil, lemon juice and balsamic vinegar. A perfect way to devour the leftover Moroccan Harari Risotto!!