Tuesday November 15, 2011
Continuing in my spirit of thanks - I want to thank KWC, a manufacturer of gorgeous faucets for sponsoring my TV special.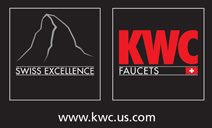 As many of you know, I am an interior designer and have access to these beautiful faucets for my clients. In fact, I just used 6 of their kitchen faucets for a big project I just completed. They were the perfect blend of artistic form and function for which my client and I were searching.
KWC is an ideal sponsor because of their heirloom quality and because they are a kitchen product. THANK YOU for celebrating the richness and diversity of American cooking!!