Tuesday February 08, 2011
Oatmeal has been a favorite breakfast in my house. Ever since we had it at the Pocono Manor Inn when I was probably 5 years old - so creamy, warm and delicious!! It's always been my goal to make it like I remember having it there!! Afterall, it sticks to your ribs and I suppose that means it's good for you!!
Fast forward to adulthood - we now know the cholesterol healing qualities of oatmeal - so it's healthy and tasty - a winning combo.
I found the oatmeal cannister at an antique shop a few years ago so I can prominently feature it on my counter everyday!!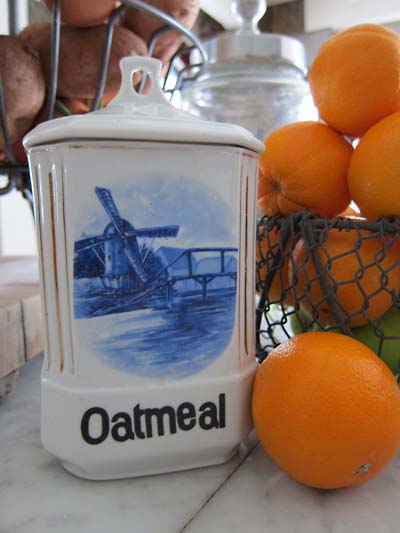 And the good news, Bob's Red Mill makes gluten free oatmeal so Jim can eat it too!! My newest favorite way to prepare it - use almond milk and dried organic bing cherries - it maybe tied for first with the oatmeal I remember from the Pocono Manor Inn!!