Thursday January 05, 2012
The beginning of a new year offers opportunity for renewed direction, new beginnings, explorations and ideas. Here at Heirloom Meals, Farmer Thursdays will embrace 2012 as a chance to explore the multi-faceted stories of Heirloom Seeds and Heritage Breeds. Whether it's the history of the Scottish Highland breed cattle that are grazing outside the windows of the Heirloom Meal's office or the stories of families who saved seeds for generations-we will track these stories down!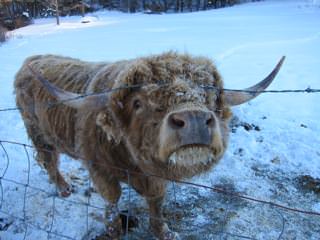 Although there is not a specific definition for "heirloom seeds," they are generally considered to be varietals that existed before the influence of hybridization and for the most part have been handed down through generations of farmers and gardeners. Heritage breeds are ancient breeds of animals that were bred not necessarily to produce ever more eggs or milk but rather to withstand cold climates, difficult terrain, or other environmental factors. Some traits- which others might find unsightly or inefficient- make these heirlooms unique and treasured and lend to us many great stories. They also offer us animals and plants which are adapted to different types of environments, have different tastes, look different and in general contribute to a more colorful and diverse biological world.
Thankfully, not unlike with family recipes that are passed by word of mouth or written down and passed down generations people have painstakingly preserved this biology for hundreds if not thousands of years. We look forward to sharing this diverse world of plants and animals every Thursday and maybe you'll even be inspired to raise a few yourselves.