Monday March 05, 2012
Sometimes I wonder if what I am doing with Heirloom Meals is really working and then something happens to erase my doubts. It's the small things that mean the most. So when I learned that a dinner party we were invited to by my friend Suky Werman was inspired by moi, I knew that Heirloom Meals had struck a chord. In an email she wrote:
"The idea for a heritage potluck was inspired by our viewing Carole Murko's wonderful Heritage Thanksgiving special on PBS this past holiday season. Carole--you created a dybbuk in me.
Here is what is already planned:
We're providing the main course from my Viennese heritage and at least one hors d'oeuvre. Julia Werman will be making Rudy Werman's chopped chicken liver and I know Liam, our son in law, will be creating a Sicilian savory vegetable from his venerable family tradition. So far, Carolann Patterson is making Potato Dauphinoise. Anna Gershenson will be making Dobosh Torte as well as a Latvian dessert from her early life in Riga Latvia. I haven't had an authentic Dobosh since I was about 25. t's a taste sensation and Anna is a fantastic baker. We're looking forward to sharing one of your favorite dishes either in the vegetable, starch or appetizer department. There will be 16 of us, but I think it's comfortable to plan for 12 when you're working out portions. I warn you that we'll have to have little tastes of the dobosh because it's a tough one to bake.
Let me know if you have any questions. I hope this doesn't feel daunting. It's a great way to get to know each other and hear family stories."
Well, it wasn't daunting at all. I made Shrimp Risotto Cakes and was thrilled to see all the dishes that were made. Suky even went to the effort of making labels for everyone's dish.
Here's a photo memory lane from the dinner: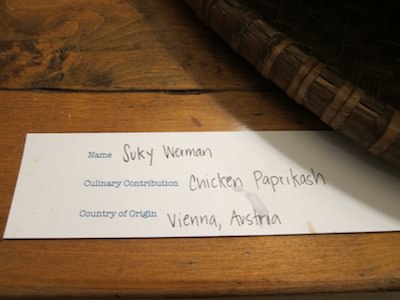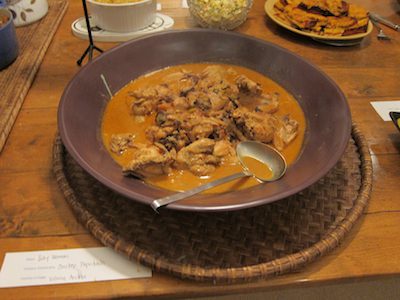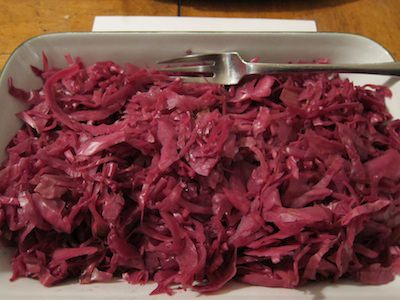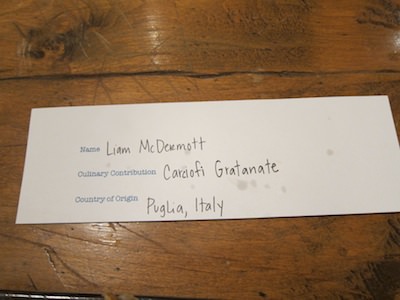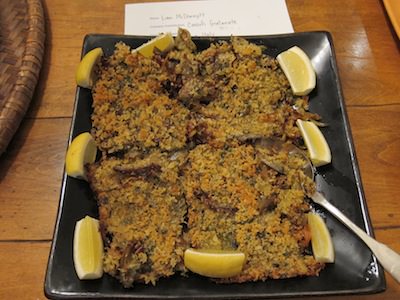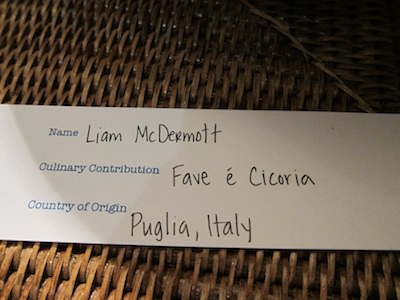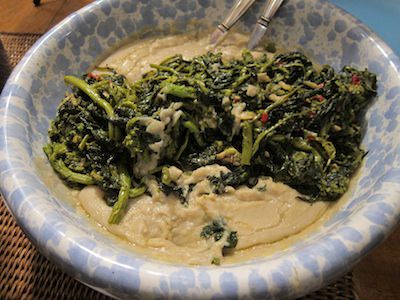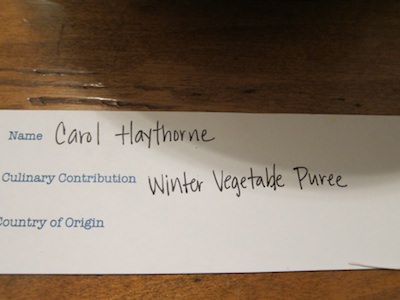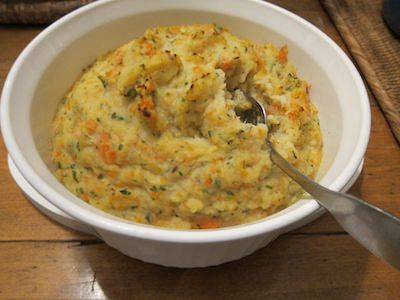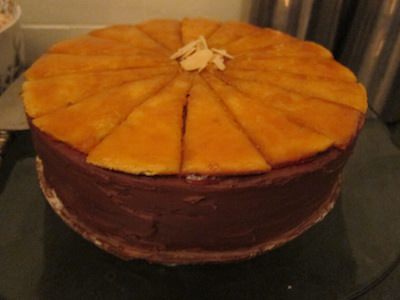 What a wonderful journey we had walking down food memory lane with everyone. Now, if only Suky had asked for recipes. And, by the way, Anna's torte was magnificent in it's presentation and taste.
Well done, Suky. I thank you from the bottom of my heart!