Wednesday November 02, 2011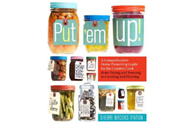 With the following dedication in her book, Put 'em Up: "For all of the home cooks who nourish family and friends, culture, and tradition," you can see why I wanted to interview Sherri on my radio show. Sherri dispells myths about the water bath canning method and also shares that there are many ways of preserving your harvest - freezing, stringing hot peppers, fermenting and canning. Her book is approachable, easy to follow and full of great recipes.
I am about to make a few jars of her Apple Chutney for holiday gifts. Sherri tells me it will be a HUGE hit!! I'll blog about it soon!
Listen to her interview here - so fun!