Nirvana Oatmeal Raisin Cookies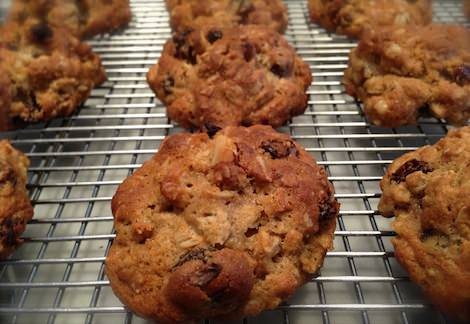 Ingredients
2 sticks unsalted butter, softened
1 cup sugar
1 cup brown sugar
2 eggs
2 teaspoons vanilla
2 Tablespoons milk
2 cups King Arthur White Whole Wheat Flour
1 teaspoon baking soda
1 teaspoon baking powder
½ teaspoon salt
2 ½ cups oats
2 cups raisins
1 ½ cups walnuts, chopped
Instructions
Preheat oven to 350 degrees.
In a large bowl, cream the butter and sugars. Add the egg, vanilla and milk. In another bowl, whisk the flour, baking soda, baking powder and salt. Blend the flour into the wet ingredients. Next add the oats, raisins and walnuts.
Take about a tablespoon of cookie dough and roll into a ball. Place on a cookie sheet lined with parchment paper. (King Arthur Flour has the half sheet parchment.) Bake for 10-12 minutes. Cool on a rack and watch them disappear!