Beet Salad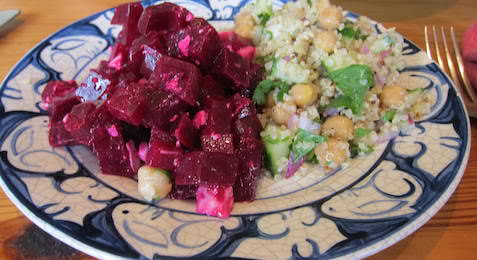 Ingredients
5

Beets

1-2 tbsp

Olive Oil

1 tsp

Sea Salt

1 Tbsp

chopped chives

1-2 tsp

balsamic vinegar

1 Handful

Feta Cheese
Directions
Boil five beets for about 1 hour until tender.
Peel beets under running water, and dice into 1-inch cubes.
Place in beets in a bowl, and add olive oil, sea salt, chives, and balsamic vinegar.
Sprinkle about a handful of feta cheese on top. Mix well to combine and Enjoy!
I added Feta cheese, but you can also use goat cheese, or any cheese you like!
Prep time:

25 minutes

Cook time:

1 hour +

Total time:

1 hour & 30 minutes
Yield: 6-8 servings