Tortilla de Patatas (Spanish Omelet)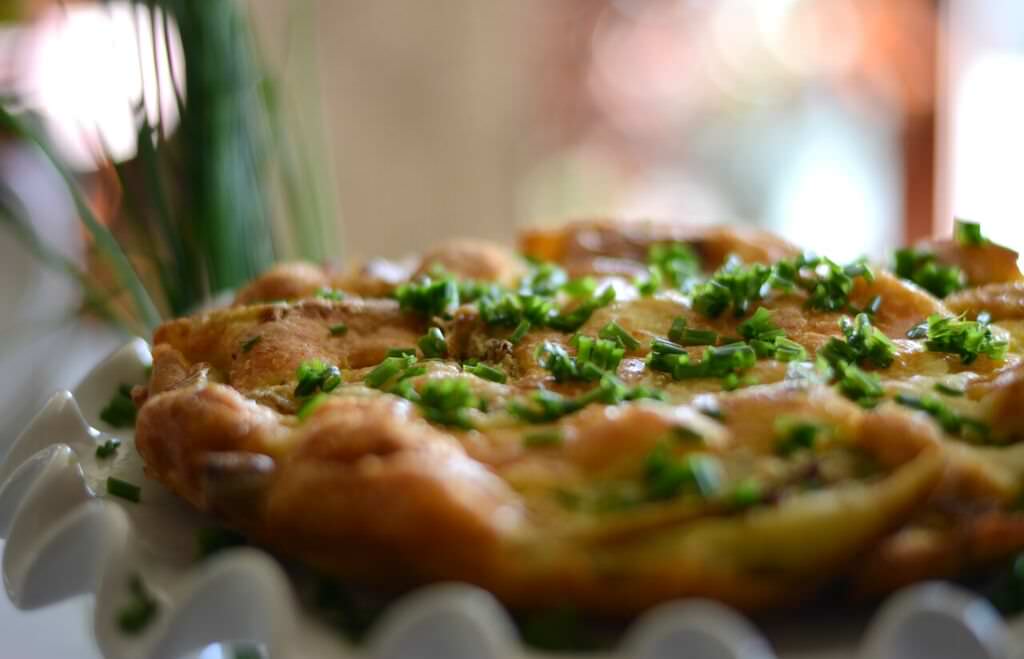 Ingredients
8-9

Eggs

2 1/4 lb

pound of potatoes

EVOO

1

Onion

Salt
Directions
Peel, wash and cut the potatoes into thin slices. Heat a plentiful amount olive oil in a 10 inch frying-pan. Add potatoes and salt to taste. If you want onions in your tortilla add them a little after the potatoes.
Cook until potatoes and onions are thoroughly cooked, the potatoes should be a little browned. When potatoes begin to brown remove from pan with a slotted spoon allowing the oil to drain. Put aside on plate until needed.
In a separate bowl beat eggs and a salt to taste. Add the potatoes and mix. Place the frying-pan back on the stove over high-heat. Cover the bottom with olive oil and heat. Add the egg and potatoes mixture and lower the heat. Continually move the tortilla, shifting the pan, so that it does not stick to the bottom.
When the eggs begin to bubble it is time for the flip (this is the most difficult part!). Wearing hot mitts, remove the frying-pan from the stove. While holding the frying-pans handle cover with a plate large enough to cover the entire pan. Place one hand on top of the plate and quickly flip the pan/plate so that the tortilla is now sitting on the plate rather than in the frying-pan.
Place the frying-pan back on the stove and put a little more olive oil in the pan. Allow the tortilla to slide off of the plate and land flat in the pan. Continue to move the pan until the tortilla is cooked all the way through.
Prep time:

20 minutes

Cook time:

20 minutes

Total time:

40 minutes
Yield: 4 servings