Lolita's Flan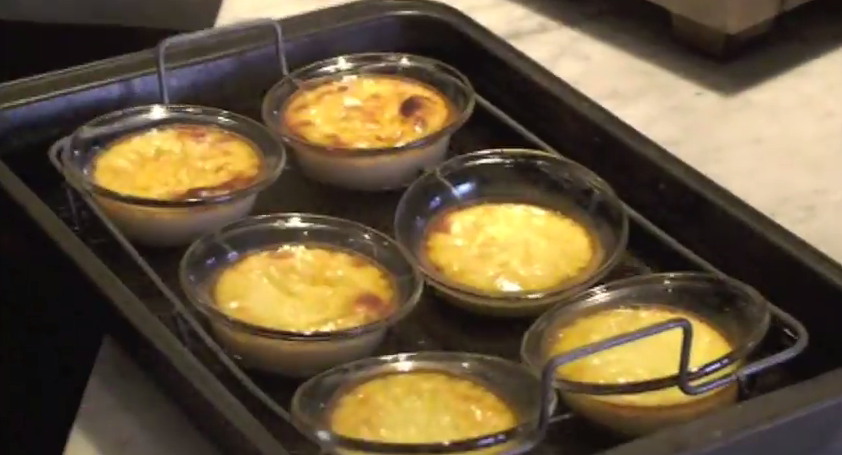 Ingredients
1 qt.

whole milk

1/2 cup

sugar (more or less)

1

cinnamon sticks

1/2 - 1 Lemon

Zest

5

eggs beaten

5 heaping tsp

sugar

Flan Baking dish: 1 quart glass baking dish or about 12 small ramekins/custard cups.
Directions
Preheat oven to 350º. Mix the milk, cinnamon and the lemon zest in a saucepan. Put over medium heat and allow to boil.
While the milk is cooking, melt ½ cup of sugar in sauce pan until sugar turns a deep amber, stir consistently.
. Quickly pour into Flan baking dish and immediately tilt dishes to coat sides. Put aside to cool (you know they are cooled when the caramel cracks).
When the milk begins to simmer remove from heat and put aside to cool completely.
In a separate bowl mix eggs and 5 heaping teaspoons of sugar. Once the milk has cooled, combine with the egg mixture. Then pour through a sieve and place in baking dish.
Place baking dish into a bain-marie. You can make your own by placing the flan dish in a deep baking pan. Pour enough hot water into baking pan to come half-way up the flan dish.
Bake until center of flan is gently set, about 40 minutes. Take flan dish out of the bain-marie and chill for 2 hours. Cover and chill over-night.
To serve Directions
Run a knife around the edge of the flan. Tip over and gently shake until flan comes out. Lift the dish and allow the caramel syrup to run over the flan.
Prep time:

20 minutes

Cook time:

50 minutes

Total time:

1 hour & 10 minutes
Yield: 1 quart glass baking dish or about 12 small ramekins/custard cups