Heirloom Stuffed Mushrooms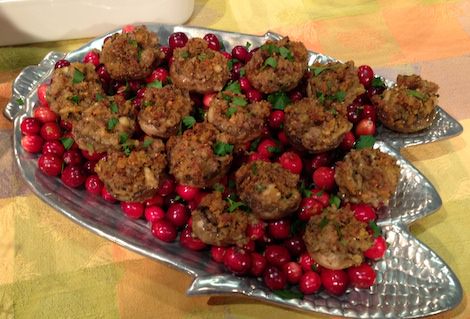 Ingredients
2 lb

Baby Bella or button mushrooms, medium-sized

2 tbsp

EVOO

1/2

large onion, finely chopped

2-3

garlic cloves, minced

1/2 lb

Bulk sausage

1 Tbsp

Parsley, minced

1/2 cup

pecorino romano

1/4-1/2 cup

breadcrumbs

salt & pepper to taste
Directions
Preheat oven to 375 degrees.
Snap off the stems, wash them well and finely chop. Peel the mushrooms.
Heat olive oil in a medium-sized sauté pan. Add onions, stems and cook until onions are translucent.
Add the garlic, parsley and sausage. Cook until nicely browned. Remove from heat and add cheese, breadcrumbs and salt and pepper.
. Be sure to have a "taster" on hand to add more cheese or whatever flavors seem to need "doctoring."
Stuff the mushroom caps and place in a baking dish. Add some water and olive oil to the bottom (about 1/8").
Cover with tin foil, place in center of oven and bake for 20 minutes, then remove tin foil and let brown for 5-10 minutes.
Serve as an appetizer or as one of your side vegetables and enjoy!
Prep time:

25 minutes

Cook time:

30 minutes

Total time:

55 minutes
Yield: 3 dozen stuffed mushrooms