Beef Tenderloin En Croute with Mustard Sauce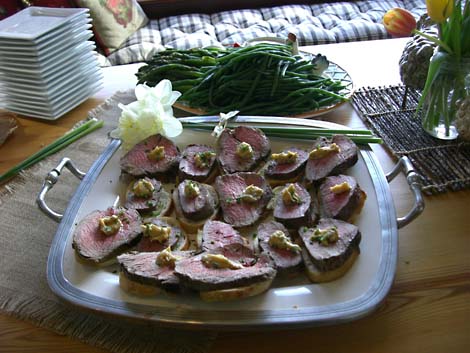 Beef Ingredients
1 (4-5 lbs)

Whole Beef Tenderloin, Trimmed

1-2 Tablespoons

Extra Virgin Olive Oil

Salt & Pepper
En Croute Ingredients
Loaf of French Bread

Sliced 1/2-3/4 inch thick

Extra Virgin Olive Oil

Salt & Pepper to taste
Ingredients
1/2 cup

Dry Mustard

3 Tablespoons

distilled white vinegar

3 Tablespoons

Water

1 1/2 Teaspoons

Sugar

1 1/2 Teaspoons

Salt

6 Tablespoons

cut into pieces

3 Tablespoons

fresh chives
Beef Directions
We like to oven sear our tenderloin but you can also sear it on top of the stove.
Rub tenderloin with olive oil, sprinkle with salt and pepper.
Place on baking sheet and sear - about 5 minutes per side, then reduce temperature to 350 degrees and bake for another 15-20 minutes.
This should produce a spectrum of doneness from medium rare in the middle to well-done on the ends.
Remove from pan, tent with foil and let rest for 20 minutes or so.
Keep in mind the beef will continue to cook.
Once rested, you can slice the filet to desired thickness. For the en croute, about 1/2 inch thick.
En Croute Directions
Preheat oven to 350 degrees.
Brush slices with olive oil and sprinkle with salt and pepper.
Place on a parchment lined baking sheet in the middle of the oven for about 5 minutes until lightly toasted.
Remove to a wrack, cool and store until ready to use.
Mustard Sauce Directions
Mix the mustard, vinegar, sugar, salt and water until it forms a smooth paste.
Cover and let stand for about 10 minutes. Put mixture into a double boiler over simmering water and whisk in the butter until combined and smooth.
Remove from heat and stir in the chives.
Can be served warm or at room temperature.
We will put a small dollop on each of our beef en croute.
Prep time:

25 minutes

Cook time:

25 minutes

Total time:

50 minutes
Yield: 10-12 servings