Cannellini Bean Burgers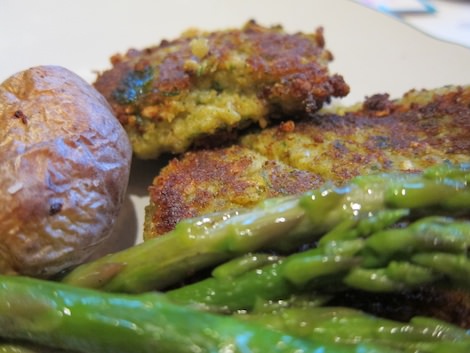 Ingredients:
1 Can Cannellini beans (white kidney) – I suggest Eden Organic Cannellini White Kidney Beans, No Salt Added, 15-Ounce Cans (Pack of 12)

1 Bunch Scallions
¼ Bunch Cilantro (approximately a handful)
¼ Cup Gluten Free Oats
1 Teaspoon Curry Powder
Salt and Pepper to taste
Instructions:
Rinse cannellini beans, cilantro and scallions. Put beans, cilantro, scallions and all other ingredients together in a food processor, leaving stems on cilantro and using both white and green parts of scallions. Process until mixture comes together. Form into burgers. Add a little olive oil to a hot pan and pan fry burgers until they are golden in color.
I enjoyed them with sides of roasted potatoes and asparagus.