Scott Keough's Blueberry Custard Pie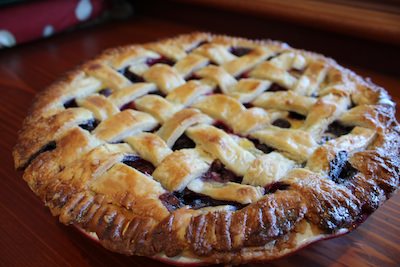 Ingredients
3/4 cup

sugar

1/4 cup

brown sugar

3 tbsp

flour

1/4 tsp

salt

1/2 tsp

allspice

3 tbsp

Tapioca flour soaked in 1/2 cup evaported milk overnight

4 cups

fresh blueberries

1/2 cup

evaporated milk

2 eggs

lightly beaten

1 lemon

juice

1/4

stick butter
Directions
Please see our pie crust recipe for starters.
Preheat oven to 350 degrees.
Mix sugars, flour, salt , allspice, and tapioca flour together pour over berries and gently shake to coat berries. Place in pie crust.
Mix together milk and eggs. Pour over berries, cut butter into tabs placing on top of filling.
Squeeze juice of lemon on top
Lattice pie crust top .
Place pan or cookie sheet under pie. Bake in the middle of your preheated oven for 50 minutes to an 1 hour. Remove from oven, let stand 30- 45 min to cool. Enjoy!
Prep time:

30 minutes

Cook time:

50 minutes to an 1 hour

Total time:

1 hour & 30 minutes
Yield: 6-10 servings