Pasta with Tuna and Artichoke Hearts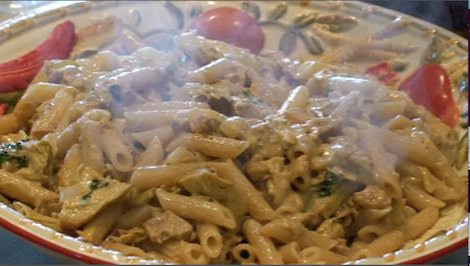 Ingredients
2- 13.5 oz cans

Artichoke Hearts

1 jar

Tonnino Tuna Filets with Oregano in Olive Oil

1/2

Vidalia Onion, chopped

1

Garlic Cloves, Chopped

1-2 Tbsp

Olive Oil

1-2 Tbsp

Cilantro, minced

1/4 -1/2 cup

Heavy cream

1/4 cup

White Wine

Parmesan Cheese

Salt & Pepper, to taste

1 lb

Penne Pasta or pasta of your choice
Directions
Boil water and cook pasta.
In a large skillet, heat olive oil. Add onions and saute until translucent
Add artichokes (I cut them into halves and quarters), then tuna, garlic and cilantro. Saute on medium flame until tuna and artichokes are heated.
Deglaze the pan with some white wine.
Add the heavy cream.
By now, you pasta should be done. Drain it and then add it to your sauce.
Toss with parmesan cheese and Enjoy!!