Okra Gumbo and Hot Water Corn Bread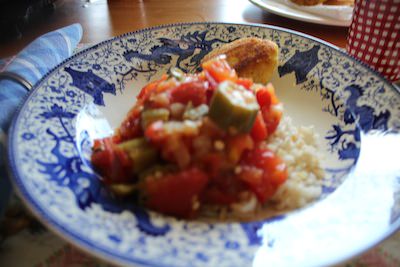 Orka Gumbo Ingredients
6

chopped onions

1 clove

chopped garlic

12

diced tomatoes (medium to large size)

12 oz.

cut okra
Hot Water Corn Bread Ingredients
1 cup

yellow cornmeal

pinch of salt

1 tbsp.

baking powder
Okra Gumbo Directions
Sauté diced onions and garlic in olive oil.
Add sliced okra and diced tomatoes.
Season with salt, pepper, a pinch of sugar, a sprinkle of chili powder and a dash of Worcestershire sauce. Simmer and enjoy.
Hot Water Cornbread Directions
Create mixture with yellow cornmeal, salt, and baking powder, and boiling water.
Then with a piece of ice for cooling spoon a handful of mixture into hand and place in hot olive oil. Cook until golden brown.
Prep time:

15 minutes

Cook time:

1 hour

Total time:

1 hour & 15 minutes
Yield: 6-8 servings