Mini Cream Puffs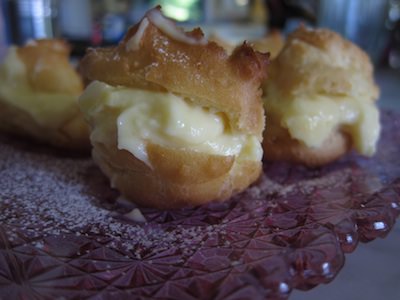 Batter Ingredients
1 cup

water

1/2 tsp

salt

1/8 tsp

Vanilla Extract

4

eggs

4 tbsp

butter, cut into small pieces

1/2 tsp

sugar

1 cup

flour
Filling Ingredients
1 quart

whole milk

1/2 cup

sugar

1 pinch

salt

6

large egg yolks

1/2 cup

flour

2 tsp

vanilla extract
Batter Directions
In medium saucepan combine water, butter, salt, and sugar. Bring it to a full boil.
Remove from the heat, and add vanilla.
Add flour all at once and stir vigorously with a wooden spoon to form a ball. Place dough in a bowl of a stand mixer and set aside.
In a small bowl lightly beat 3 eggs, separate 4th egg and placing white in a small dish and beat lightly. With mixer at low gradually add egg mixture with flour mixture, once all in, increase speed to medium. Stop mixer , test dough- make sure it is supple enough to hold its shape but not pasty- if it is stiff then add the egg white.
On baking sheet covered with parchment paper, place 1 tsp balls. Using a spritzer, lightly spray with water one up from bottom rack
Bake at 450 and lower to 425 for 15 minutes. No peeking at all.
Open oven and pierce each cream puff with a tooth pick to let steam escape. This helps make them dry and bake them for 7 minutes. Once they are done place on wire rack to cool. They freeze easily for up to 1 month.
Filling Directions
Bring 3 cups of milk, sugar, and salt to simmer in heavy saucepan over medium heat. Stir to dissolve sugar.
In a large heat proof bowl whisk egg yolk and remaining 1 cup of milk until blended.
Sift flour over egg yolks until smooth. When all milk is added – transfer to saucepan–back on heat beat in hot milk a little at a time.
Cook stirring consistently over medium heat until it begins to boil.
Reduce to low for 30 seconds, remove from heat and stir in vanilla extract. Cool.
Constructing Cream Puffs Directions
Slice open cream puff, then add appropriate amount of cream.
Prep time:

30

Cook time:

25

Total time:

1 hour
Yield: 20-25 cream puffs