Italian Remnant Mac and Cheese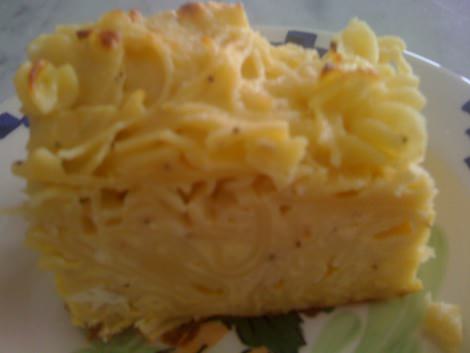 Ingredients
5-6

Eggs

1/4 - 1/2 cup

Grated Pecorino Romano

Mozzarella

Salt

Pepper

Cubed dry sausage (optional)

Milk (if necessary)

1-1.5 lbs

remnant macaroni - must be a mix of several shapes such as ziti, rotini, spaghetti, lasagna, elbow, shells etc.
Directions
Beat the eggs and mix with 1/4 - 1/2 cup of Pecorino Romano and fresh pepper. Set aside.
Boil water and throw in about a pound - pound and a half of mixed pasta shapes. When al dente, drain water and return pasta to pot.
Add the egg mixture and mozzarella. If it seems too stiff, add a little milk to loosen (this is really a "feel" call - it should seem more liquidy than stiff.)
You may also decide you want to add more Pecorino Romano too! Add the dry sausage and pour into a lasagna pan.
Refrigerate over night so flavors meld.
Preheat oven to 350-375 degrees.
If the pan cannot go from fridge to oven, bring to room temp before putting in oven.
Generously sprinkle Pecorino Romano, salt and pepper on top before you place it in oven.
Bake covered for about 45 minutes, then remove foil and allow top to become browned and crispy.
Let set, cut into squares and enjoy!!
My favorite are the crispy top and bottom - YUM!! I eat it piping hot, cold and reheated in the microwave.
Prep time:

25 minutes

Cook time:

45 minutes

Total time:

1 hour & 10 minutes
Yield: 6-8 servings