Hans Morris' Linguine with Clam Sauce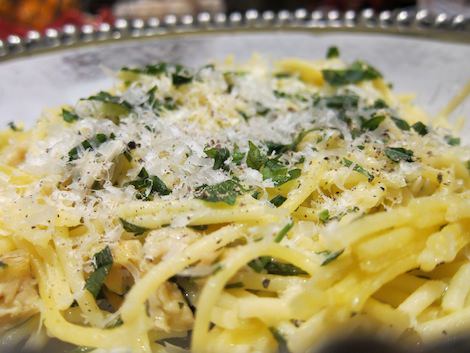 Ingredients
1

package of linguine pasta

1

clove garlic, finely chopped

2 cans

whole raw clams (NOT smoked)

1/2 tsp

dried thyme (or 1 Tablespoon fresh thyme)

1

bay leaf

1 tbsp

butter, plus 1 Tablespoon olive oil

2 tbsp

flour

1/2 cup

clam juice (you can usually squeeze the juice out of the can that the clams come in)

Handful of fresh parsley
Directions
Melt butter in a sauté pan and add olive oil. When heated and bubbling, add garlic and cook for a few minutes, then sprinkle flour over sauce and allow to cook for two minutes or until it thickens.
Whisking, slowly add the clam juice and combine into a smooth sauce.
Add the thyme, bay leaf, salt and freshly ground black pepper. If the sauce is too thick, add a little pasta water or dry white wine until it is the proper consistency.
Allow the sauce to simmer for 10 minutes or so to combine flavors. When ready to serve add clams to sauce and allow to heat thoroughly.
Meanwhile cook the pasta and drain. After the sauce has cooked about 10 minutes and the clams are heated, toss on the fresh herbs
Serve over the pasta with fresh parmesan. Serve, and prepare to be an Italian aristocrat.
Prep time:

15 minutes

Cook time:

30 minutes

Total time:

45 minutes
Yield: 6 servings