Hans Morris' Apple Cake (Teddie's Apple Cake)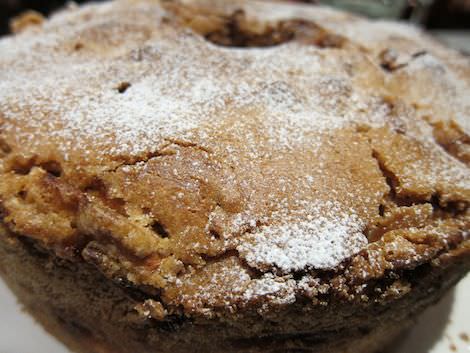 Ingredients
1 1/2 cup

Corn Oil

2 cups

sugar

3

Eggs

1 tsp

salt

1 tsp

cinnamon

1 tsp

baking soda

1 tsp

Vanilla

3 cups

peeled, cored, and sliced apples

1 cup

chopped walnuts

1 cup

raisins
Directions
Preheat oven to 350.
Beat together oil and sugar. Add eggs and beat until the mixture is creamy.
Stir to blend. Add remaining ingredients and stir to blend.
Turn mixture into a buttered Angel food cake pan. Bake 1 hour and 15 minutes or until done. Serve at room temperature.
Prep time:

20 minutes

Cook time:

1 hour & 15 minutes

Total time:

1 Hour & 40 minutes
Yield: 8-12 servings