Easy Onion Frittata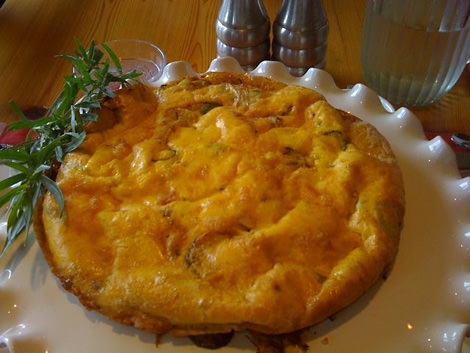 Ingredients
1

Red Onion

1

Sweet Onion, Sliced Thinly

2 Tbsp

EVOO

1 bunch

scallions, diced - use the white and some of the green

4

Cloves garlic, minced

1/4 tsp

sea salt

1 Tbsp

Tarragon, minced

6

Eggs, well-beaten

Chives for garnish
Directions
Preheat the over to 400.
In a medium frying pan, add the olive oil and swirl so the entire pan is covered, including the sides.
Heat the olive oil on a medium flame. Add the red and white onions and cover.
Stirring occasionally until soft, about 10 minutes, add the scallions.
Meanwhile, muddle the garlic, salt and tarragon together to form a paste.
Add to onions and cook for 1-2 minutes until aromatic.
Pour the eggs to cover the onions and continue to cook on top of the stove until the eggs set up a bit (around 3 minutes).
Place frying pan in middle of preheated oven for 10-15 minutes until the top is golden.
Remove from oven and using a spatula, carefully remove the frittata from the pan, cut into sixths, sprinkle with chives and serve warm or at room temperature.
Prep time:

10 minutes

Cook time:

30 minutes

Total time:

40 minutes
Yield: 6-8 servings