Ally Hemming's Patriot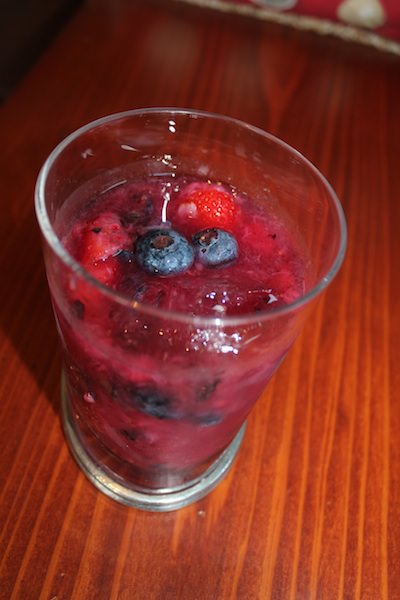 Ingredients
1 Liter

Smirnoff Vodka

Strawberries

Blueberries
Directions
Buy a Liter of Smirnoff Vodka, and pour the vodka into a pitcher.
Then take just picked strawberries and slice them twice, stuff them into the top of the vodka bottle (after a little trial and error you'll figure out the right size).
Fill the bottle to 1/3 full of strawberries, then add succulent blueberries as your next layer (do not cut them, leave them whole) taking them up to the 2/3 mark.
Finally, take your pitcher of vodka and pour it slowly back into the bottle (all of the vodka will not fit - FYI).
Then put it into the freezer for at least 4 hours. Try not to lay the bottle down.
If you want to get extra fancy, make your own label. The vodka turns a lovely color and can be simply poured over ice (crushed is best). But best of all the bottle looks fantastic. And you have the added benefit of getting all those antioxidants while you drink!
Prep time:

20 minutes

Total time:

20 minutes
Yield: 1 patriotic bottle of vodka