Watermelon and Beet Soup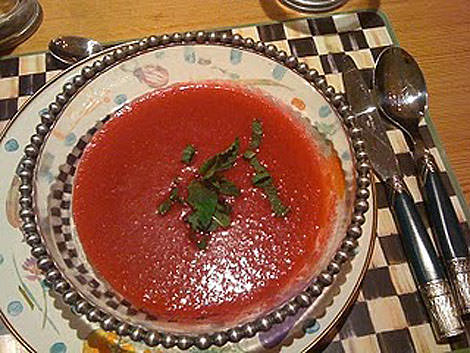 Ingredients
1 bunch

farm fresh beets, greens removed, peeled and coarsely chopped

1

vidalia onion, peeled and chopped

1 Tbsp

olive oil +/-

4 cups

vegetable broth

1 tsp

salt

2-3 cups

watermelon, seeded and chopped. What you want is equal parts beets to watermelon

Fresh mint (some chopped and some not, for garnish and flavor) In my opinion, this makes the soup!
Directions
Heat oven to 400 degrees.
Toss onions and beets with oil and place on baking sheet.
Roast until beets are soft - 30 minutes. While they are roasting, cut up watermelon.
Put beets and vegetable broth in a stockpot and cook for another 10-15 minutes.
Strain solids and put solids in food processor (keep the liquid to add back in).
Add watermelon to food processor and puree until smooth.
Mix the puree and reserved liquid.
Refrigerate for several hours. Serve cold, garnished with mint and enjoy!
Prep time:

20 minutes

Cook time:

45 minutes

Total time:

1 hour & 10 minutes
Yield: 6-8 servings