The Golden Door Moroccan Harari Arancini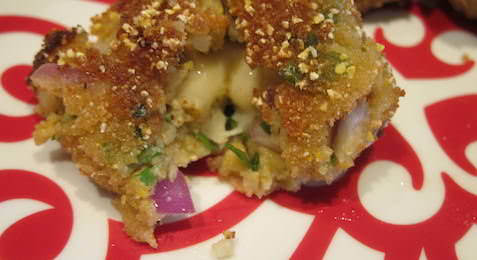 Ingredients
2 cups

Leftover Moroccan Harari "risotto"

1

eggs, beaten

1 cup

red onion, chopped finely

1/2 tsp

pepper

1/2 cup

minced cilantro

3/4 cup

gluten free breadcrumbs

2-3 oz.

mozzarella diced into 1/4" cubes

Olive Oil or Coconut Oil- enough to coat your frying pan with about 1/4" of oil; and to add oil, as needed to fry the rice balls. I prefer the coconut oil as it enhances the Moroccan flavors but olive oil is lovely as well!
Directions
Mix risotto, egg, salt, pepper, red onion and cilantro
Mix 1/2 cup of the breadcrumbs into the risotto mixture. Place the other 1/4 cup in a bowl to roll your lentil/rice balls. I like to make small-ish balls.
Using a tablespoon, scoop a heaping tablespoon and insert a mozzarella cube into middle, roll into ball between your hands to make a tidy ball and then roll into breadcrumbs.
Once done, heat oil over medium-high heat but monitor it as you go. Add the rice balls, cook until golden brown on all sides, remove onto a paper towel to drain excess oil.
Serve hot, warm or room temperature and ENJOY!
Prep time:

30 minutes

Cook time:

20 minutes

Total time:

50 minutes
Yield: 6-8 servings