Stuffed Zucchini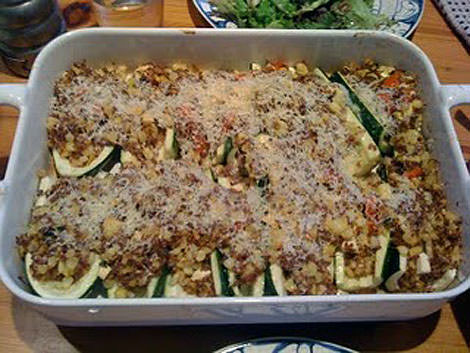 Ingredients
4-5

medium-large zucchini

2-3 Tbsp

Olive Oil

3

Leeks

4

Ears of Corn

1

Clove garlic, chopped

1 cup

Cherry tomatoes, cut into halves

1 cup

quinoa (I used Ancient Harvest Red Quinoa)

1/4 cup

grated parmesan

A few sprigs of basil, minced

Salt & pepper to taste
Directions
Preheat oven to 400 degrees.
For the "stuffing," cook corn and remove from cob.
Prepare Quinoa according to the package instructions.
Saute over medium heat chopped leaks in a couple of tablespoons of olive oil until soft, add corn and tomatoes, chopped garlic until golden, add quinoa, basil, salt and pepper.
Clean zucchini, cut in half crosswise then lengthwise.
With the point of your knife, score the flesh into cubes and then scoop out and add to your stuffing mixture, continue to saute for a couple of minutes, then remove from heat and set aside.
Place zucchini shells in a baking dish with a little water, cover with tin foil and put in center of the oven for 10 minutes to "cook" the shells a little.
Remove from oven, and carefully add stuffing to each zucchini shell, pressing stuffing in with the back of a spoon.
Once stuffed, liberally sprinkle the top with cheese and return to oven for 15 minutes until cheese is melted and golden.
Serve with a side salad and enjoy!
Yield: 8-10 servings