Struffoli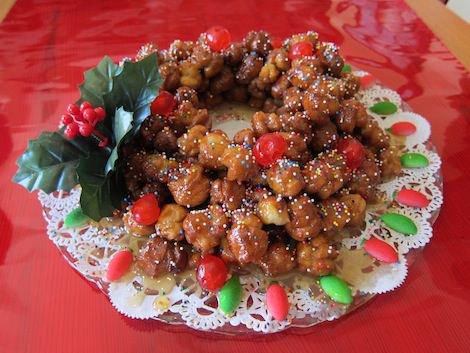 Ingredients
3 cups

Flour

1 Tablespoon

Sugar

Zest

1/2 Lemon

Zest

1/2 Orange

Pinch of Salt

4

Eggs

1 tsp

Vanilla or grappa or limoncella

2 cups

canola oil for deep frying

2 cups

Honey

1/2 cup

Sugar

1/3 cup water
Directions
Mix dry ingredients in a large bowl.
Make a well in the center and add eggs and vanilla. Slowly incorporate using your fingers. Gather into a ball and let rest for about 30 minutes at room temperature.
Heat oil in a medium saucepan over medium heat (to test temperature - toss small piece of dough - when it sizzles vigorously - it's ready!!)
Grab a golf ball sized ball of dough and roll it between your hands so it forms into a rope about 1/3" in diameter. Then cut rope into 1/3" pieces.
Fry the balls in batches. Place on paper towel to absorb excess oil.
Once the balls are done, begin making the honey syrup. Heat the honey, sugar and water in a large saucepan over low heat until the sugar is dissolved then turn up the heat until the liquid boils and bubbles.
When the foam dies down and the mixture has darkened (all takes about 4 minutes +/-), take off the heat and add the fried balls.
Using a slotted spoon, remove honey balls and arrange on a lightly oiled piece of wax or parchment paper.
My grandmother used a glass to form the center of a wreath and put balls all around and then sprinkle with candied fruit or nuts.
She brought the struffoli wreaths to all her friends and relatives when they visited them during the holidays - a lovely tradition!!