Strawberry Rhubarb Pie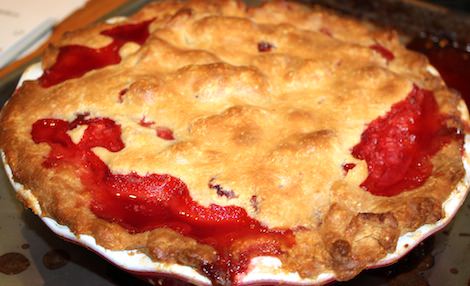 Pie Crust Ingredients
1/4 cup plus 2 tbsp

sour cream

1 tsp

sugar

3/4 tsp

salt

2 1/2 cups

flour

1/2 cup

chilled butter

1/2 cup

lard (chilled)
Pie Filling Ingredients
1 pound

rhubarb washed and cut into 1-inch pieces (remove any tough strings)

1 quart

quart strawberries, hulled and halved (cut larger berries into smaller pieces)

zest

1 lemon

3/4 cup

sugar

3 tbsp

cornstarch

1/4 tsp

salt
Pie Crust Directions
Combine sour cream, water, sugar, and salt in a small bowl.
Cut butter and lard into the flour until it resembles coarse meal.
Add sour cream mixture until dough forms.
Divide dough in half and flatten into 2 discs.
Cover with plastic wrap and refrigerate for an hour.
Preparing Filling and Pie Directions
Roll out half of your pie dough and line a 9-inch pie plate. Trim excess from edges and refrigerate.
Preheat oven to 425 degrees F.
In a large mixing bowl, toss together rhubarb, strawberries, and lemon zest. In a separate bowl mix together sugar cornstarch, and salt.
Just before adding the filling to the pie plate, toss the fruit in the dry ingredients.
Brush the rim of the bottom pie crust with milk or egg wash.
Roll out second half of dough and lay over the filled pie. Trim the edges, and tuck the top crust over the rim of the bottom crust to form a tight seal. Crimp into whatever pattern you like.
Brush the top crust with milk or egg wash, sprinkle raw sugar, and cut a few slits to allow steam to escape.
Bake at 425 degrees F for 20 minutes, turning the pie once halfway through.
Lower heat to 350 and bake 30-40 minutes more, or until crust is golden and fully baked, and juices have thickened.
Remove to a rack and allow to cool completely, at least one hour.
Prep time:

30 minutes + 1 hour (Pie crust)

Cook time:

1 hour

Total time:

2 hours & 30 minutes
Yield: 8-10 servings