Spiced Curried Walnuts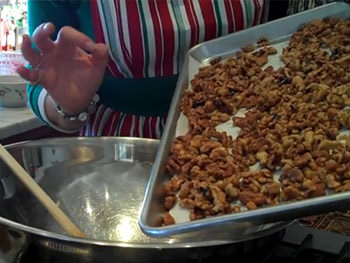 Ingredients
1 lb

Walnuts Halves

1/2 cup

sugar

3 1/2 Tbsp

Canola Oil

1/2 tsp

salt

1/4 tsp

pepper

1/4 tsp

cayenne

1/2 tsp

coriander

1/2 tsp

ground ginger

1/2 tsp

ground cloves

1 1/2 tsp

cumin
Directions
Preheat oven to 325 degrees.
First you need to blanch walnuts for about a minute in boiling water. Drain and toss well with sugar and oil. Let stand for about 10 minutes.
Prepare a baking sheet by lining with parchment paper.
Spread walnuts in a single layer and place in the middle of the oven.
Check and turn the walnuts every 7-10 minutes until golden. I find the process is about 25 minutes but be careful - one extra minute can turn your golden nuts black.
Remove golden nuts and put in a large bowl. Mix all spices and then toss with the warm nuts.
Spread nuts in a single layer to cool. Once cool, store in a sealed container and Enjoy!!
Prep time:

20 minutes

Cook time:

25 minutes

Total time:

45 minutes
Yield: 10 servings