Ruth Ann Galvin's Mocha Rounds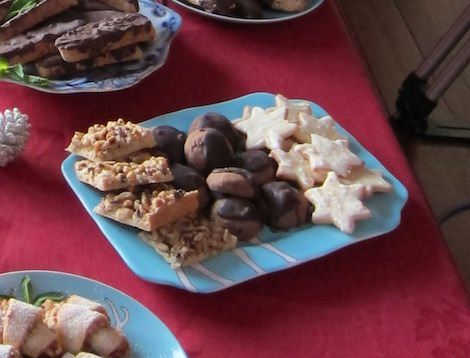 Ingredients:
1 ounce unsweetened chocolate
1 tablespoon instant espresso
1 teaspoon hot coffee
½ cup shortening
½ cup sweet cream butter
½ cup brown sugar
½ cup granulated sugar
1 egg
2 cups King Arthur flour
¼ teaspoon cinnamon
1 cup semisweet chocolate chips
Instructions:
Preheat oven to 350°F.
Melt unsweetened chocolate squares in a double-broiler over low heat. Cool slightly.
Dissolve the espresso in coffee, set aside.
In a large bowl beat shortening, butter and sugars; beat until fluffy. Add the melted chocolate, egg and coffee mixture to the butter mixture and beat well. In a separate bowl stir flour, cinnamon and salt together and add to chocolate mixture. Cool in refrigerator until manageable.
Using a gelato scoop (or spoon) make one-inch balls with the cookie dough, place on a cookie sheet and bake for 10-12 minutes. Once the cookies have cooled dip in melted semisweet chocolate.