Ruth Ann Galvin's Lemon Star cookies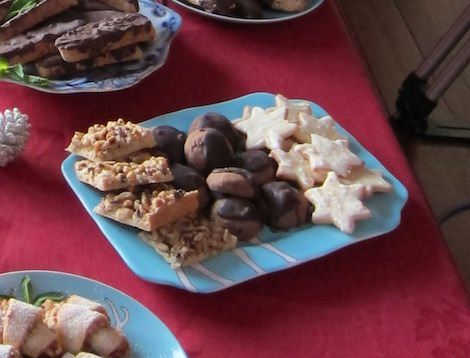 Ingredients:
(for a double recipe simply double all the ingredients)
2 ½ cups all-purpose flour
½ teaspoon salt
1 teaspoon baking powder
¾ cup sweet cream butter
1 cup granulated sugar
2 eggs
1 teaspoon vanilla
For Icing:
½ cup butter (one stick)
2 cups confectioners sugar (to taste)
Juice from 2 lemons
1 teaspoon vanilla
Instructions:
Preheat oven to 350 degrees.
Mix dry ingredients in a bowl and set aside. Cream butter and add the granulated sugar. Beat until well blended. Add Eggs, one at a time, and vanilla. Scrape down the sides of the bowl. Add dry ingredients— the dough will be soft.
Shape into a ball, wrap in plastic wrap and refrigerate for 2 hours or until you can roll it out. Be careful: if you leave it in the fridge too long it will turn into a brick and you will have to let it warm up a bit. Once it is firm enough to roll out, use parchment paper and sufficient flour to keep it from sticking. Roll the dough between two sheets of parchment paper and cut with a star cookie cutter. Keep the stars on the parchment paper and remove the excess dough.
Transfer the cookies on the parchment paper to a cookie sheet. Bake 6-8 minutes, rotating the pans halfway to prevent overbrowning. (4 minutes on each oven rack).
While cookies are baking, cream ½ cup butter with confectioners' sugar to taste (about 2 cups). Add the juice from two lemons and a teaspoon of vanilla. Use your judgment and taste regarding how lemony you want to make the icing. After the cookies are cooled ice the top of each one with a knife or by using the back of a spoon to spread the icing.