Nutella Crepes a la Matt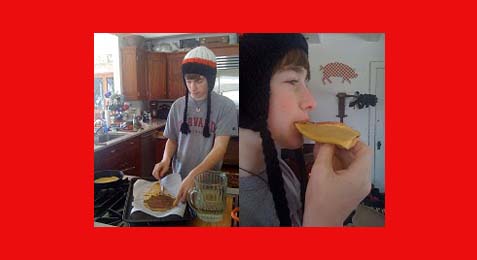 Ingredients
1 cup

Flour

2 Tablespoons

Sugar

1/4 cup

Skim Milk

1/4 cup

Half & Half

3

Large Eggs

2 Tablespoons

Melted Butter

1 Lemon

Lemon Zest
Directions
Blend all ingredients. Store covered overnight.
Using a well-seasoned crepe pan or non-stick 5-6" frying pan, heat on low-medium flame, brush pan with canola oil or melted butter. (I usually do a tester before I really get started to make sure pan it hot enough etc.)
Then ladle the batter into the pan and swirl it so it spreads into the entire surface.
Cook until the edges start browning and top seems dry.
I use a fork but a spatula would do the trick as well to loosen the edges.
Then flip the crepe and let it cook for a few seconds. (I find this is a feel sort-of-thing - you just can tell when it's ready!!)
Matt took each crepe as it came out of the pan and spread Nutella on it. He ate several on the spot and took the rest back with him to his Mother's house to delight in at a later time.