Meatballs and Gravy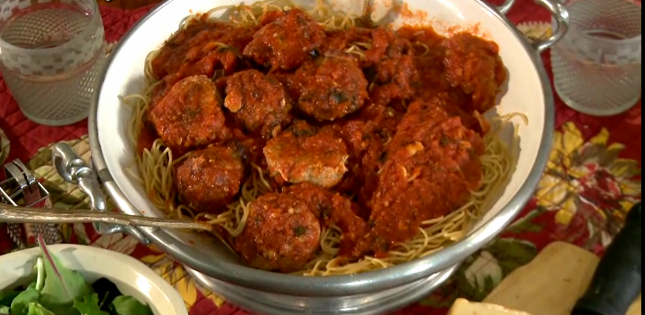 Meatballs Ingredients
2-3

onions, caramelized

4 tbsp

olive oil

3-4

cloves of garlic, minced

2 lb.

combo of ground veal, beef and pork in equal proportions (if you are lucky enough to have a good butcher they can do this for you!)

2

eggs

1

1 kaiser roll, or 2 slices of bread or in my case, 1 gluten-free roll

1 cup

milk - whole, low-fat or skim - whatever you have on hand 2 Tbsp parsley, minced

2 tbsp

parsley, minced

1 tsp

salt

1/2 tsp

pepper

1/2 cup

grated cheese - pecorino romano OR parmesan
Gravy Ingredients
2 Large Cans

tomatoes - I use one diced for texture and one chunky tomato sauce

1 medium can

smooth tomato sauce

1 small can

tomato paste
Meatballs Directions
Caramelize the onions in 2 Tbsp olive oil. This takes about 20 + minutes.
Add the minced garlic at the end so it doesn't get burned but cooks enough to get aromatic and soft.
While the onions are caramelizing, soak the roll in the milk until is is mushy and breaks into pieces.
Mix the meat, eggs, salt, pepper, parsley, grated cheese and soaked roll together until well blended, and the add the caramelized onion and garlic mixture.
Using your hands, form meat mixture into balls - tiny ones for the manicotti or larger ones for spaghetti and meatballs.
"Gravy" Directions
Put all tomatoes in a large sauce pan, rinsing each can with water to get all the bits.
Simmer while you are cooking your meatballs.
As the meatballs are done, plop them into your sauce. Be sure to add all of the pan drippings when you are done and continue to simmer for another hour over low heat.
Prep time:

1 hour

Cook time:

1 hour

Total time:

2 hours
Yield: 6 -8 servings