Mary Leverette's Ladies Lunch Asparagus and Shrimp Rounds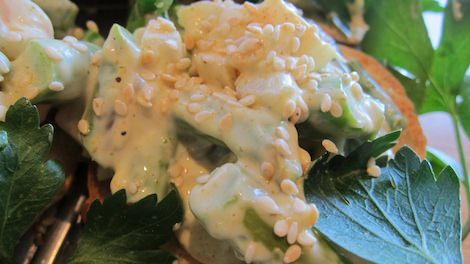 Ingredients
1 cup

Mayonnaise

1 tsp

mild curry powder

1/2 cups

finely diced water chestnuts

1 lb.

small baby shrimp, cooked

1 lb.

pencil asparagus spears, blanched and cut into bite-sized pieces

6

English Muffins

1/4 cup

butter, softened

1 tsp

lemon pepper

Toasted Sesame Seeds
Directions
In a medium bowl, mix mayonnaise and curry powder.
Stir in water chestnuts, asparagus pieces and shrimp. Set aside. This can be made ahead, covered and refrigerated.
Split English muffins and place on baking sheet. Mix butter and lemon pepper and evenly spread over cut sides of muffins.
Place under 500-degree F. broiler and toast until edges begin to brown. Remove from oven.
Mound asparagus and shrimp mixture onto toasted English muffins.
Serve open-faced with wedges of lemon.
Prep time:

15 minutes

Cook time:

20 minutes

Total time:

35 minutes
Yield: Serves 12