Madeline Finnerty's Lemon Meringue Pie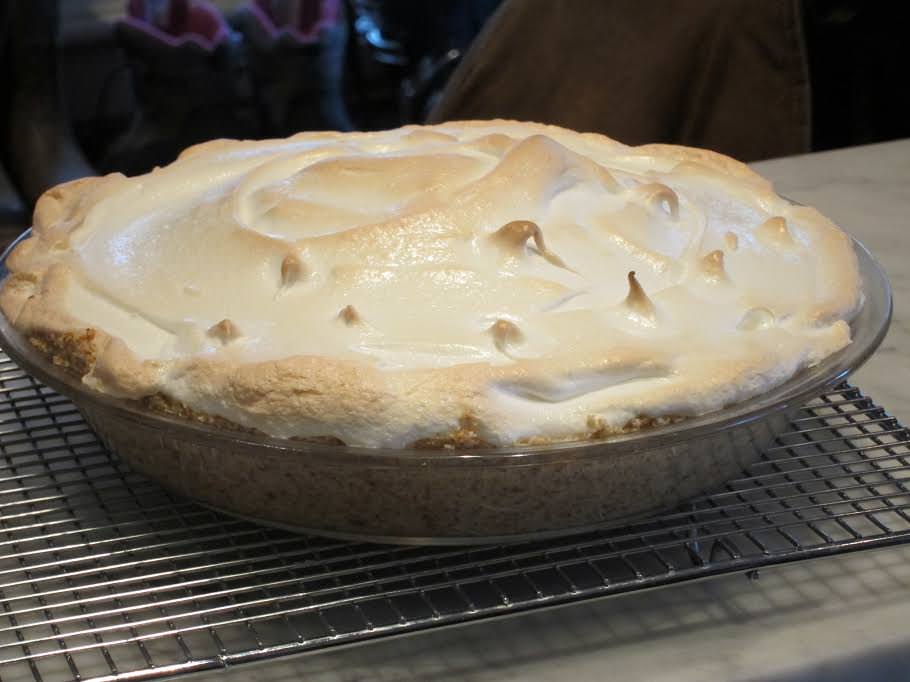 Pastry Ingredients
1 1/2 cup

flour

1/4 tsp

salt

7 tbsp

chilled butter

1

egg yolk

1-2 tbsp

cold water
Filling Ingredients
3/4 cups

sugar

1/4 tsp

salt

1 cup

water

3 tbsp

cornstarch

2 egg

yolks

1/4 cup

lemon juice

2 tbsp

butter

1 tsp

grated lemon rind
Meringue Ingredients
2

Egg Whites

6 Tbsp

Sugar
Pastry Directions
Mix together flour and salt and cut butter into small pieces.
Work chilled butter into flour and salt mixture with hands until it is uniformly incorporated and the size of small pebbles.
Whisk egg in a small bowl and add to butter and flour mixture.
Filling Directions
Dissolve sugar with salt in 3/4 cup water in a saucepan on the stove over low heat then increase heat until it boils.
Mix cornstarch with remaining 1/4 cup water to a smooth paste.
Take sugar syrup from heat and stir in cornstarch.
Return to heat and cook, stirring constantly until thick and clear. Take from heat.
Beat egg yolks with lemon juice until slightly thick, stir into cornstarch mixture and bring just back to a boil.
Take from heat, stir in butter and lemon rind and pour into pastry shell. Cool.
Meringue Directions
Beat egg whites until they hold a stiff peak and then beat in two tablespoons sugar until mixture is glossy.
Fold in remaining sugar with a metal spoon. Pile meringue on pie to cover it completely.
Seal it to pastry to avoid shrinkage and sprinkle with sugar.
To set rather than cook the meringue place in a low oven (275 F) for 15 minutes or until lightly browned.
The consistency should be that of a marshmallow - firm to cut, yet soft with a crisp coating.
Yield: 8-10 servings