Linguine with Clam Sauce aka Seaweed Macaroni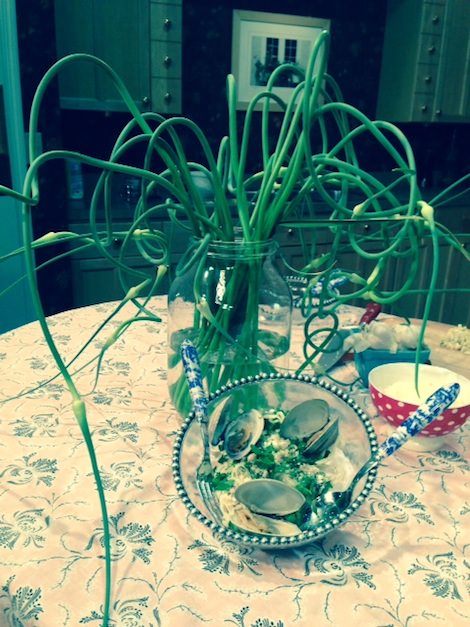 Ingredients
4-6 tbsp

olive oil

3-4

garlic cloves, chopped

1 1/2 cup

clam juice

1 tsp.

salt

1 tsp

ground black pepper

1 1/2 -2 cup

clams, minced (either canned or fresh. If fresh, use 1-2 lbs)

1/2 1 cup

chopped parsley

1 lb

spaghetti/linguini
Directions
If using fresh clams, rinse and soak in a pot of salted water for 10-15 minutes to help release the sand. Scrub and rinse thoroughly.
Place clams in pot with about an inch of water bring to boil and then simmer covered for 10 minutes until clam shells open.
You can remove the clam meat and mince but I like to leave a few in the shell for garnish.
Heat oil and sauté chopped garlic for 2 minutes. Add juice, salt/pepper and parsley.
Simmer about 8-10 minutes. Can be prepared up to this point. Meanwhile, cook pasta. When done, drain. Add clams to sauce and heat thoroughly.
Spoon sauce over pasta. Add a generous amount of parmesan or Pecorino Romano. Toss. If it seems too dry, add some more bottled clam juice. Enjoy!!
Prep time:

20 minutes

Cook time:

25 minutes

Total time:

45 minutes
Yield: 4-6 servings