Italian Breaded Chicken Cutlets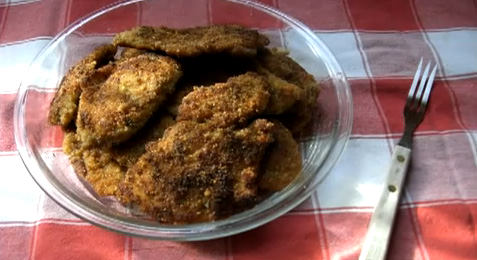 Chicken Cutlets Ingredients
2

whole boneless, skinless chicken breasts, sliced into cutlets

2

Eggs

1/2 cup

milk

2-3 cups

breadcrumbs

Olive oil for pan frying
Homemade Breadcrumbs Ingredients
10-12

slices of stale bread

1 tsp

salt

1/2 tsp

pepper

2 tbsp

dried parsley

1 tsp

dried oregano

1 1/4 cup

Pecorino Romano cheese
Chicken Cutlets Directions
Beat the egg and milk together. Have the breadcrumbs in a plate next to the egg mixture and work like an assembly line.
Dip the cutlet first in the breadcrumbs, then in the egg mixture, then back in the breadcrumbs until fully coated. Repeat until all are finished.
Heat the olive oil over medium to high heat. You'll have to adjust the heat – it's a "feel" things – you can tell if they are browning too slowly or too quickly. Fry until golden, transfer to an oven-proof dish.
I put them in a 200-degree oven to keep them crispy until they are all done. Enjoy!
Homemade Breadcrumbs Directions
Heat oven to 250 degrees.
Arrange bread in a single layer on a baking sheet. Bake for 20 minutes, until the bread is crisp and dry.
Allow to cool completely, then break into small pieces.
Place in food processor and add seasonings.
For gluten-free breadcrumbs, substitute 1 cup brown rice flour and 1 cup cornmeal for the stale bread.
Prep time:

30 minutes

Cook time:

20 minutes

Total time:

50 minutes
Yield: 4-6 servings