Herb-Crusted Rib Roast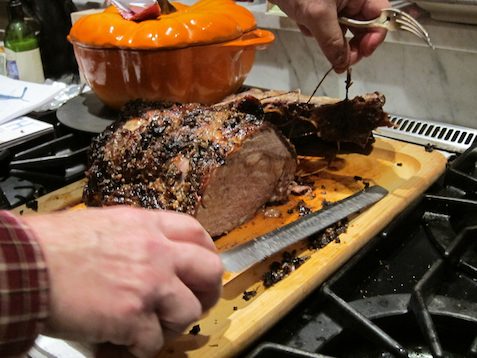 Ingredients
2 tbsp

olive oil

salt & pepper

1/3 cup

dijon mustard

6-8

garlic cloves, minced

3 tbsp

rosemary, minced
Directions
Preheat oven to 450 degrees.
Place rib roast in roasting pan, fat side up. Rub olive oil over beef and sprinkle with salt and pepper to your liking.
Spread mustard over beef and then press the garlic and rosemary into the mustard to form a crust.
Place in center of heated oven and roast for 15 minutes.
Lower temperature to 325 degrees and cook for another 2-3 hours or until the middle of the roast is 130 degrees – this will insure that you have a spectrum of "well-doneness" – from well done on the ends, to medium rare in the middle.
Take out of oven and remove from pan to your cutting board. Let rest for 20-30 minutes while you finish your sides.
Prep time:

10 minutes

Cook time:

2-3 hours

Total time:

3 hour 5-Ribbed Roast (serves 10 people)+