Eric William's Granny's Peach Cobbler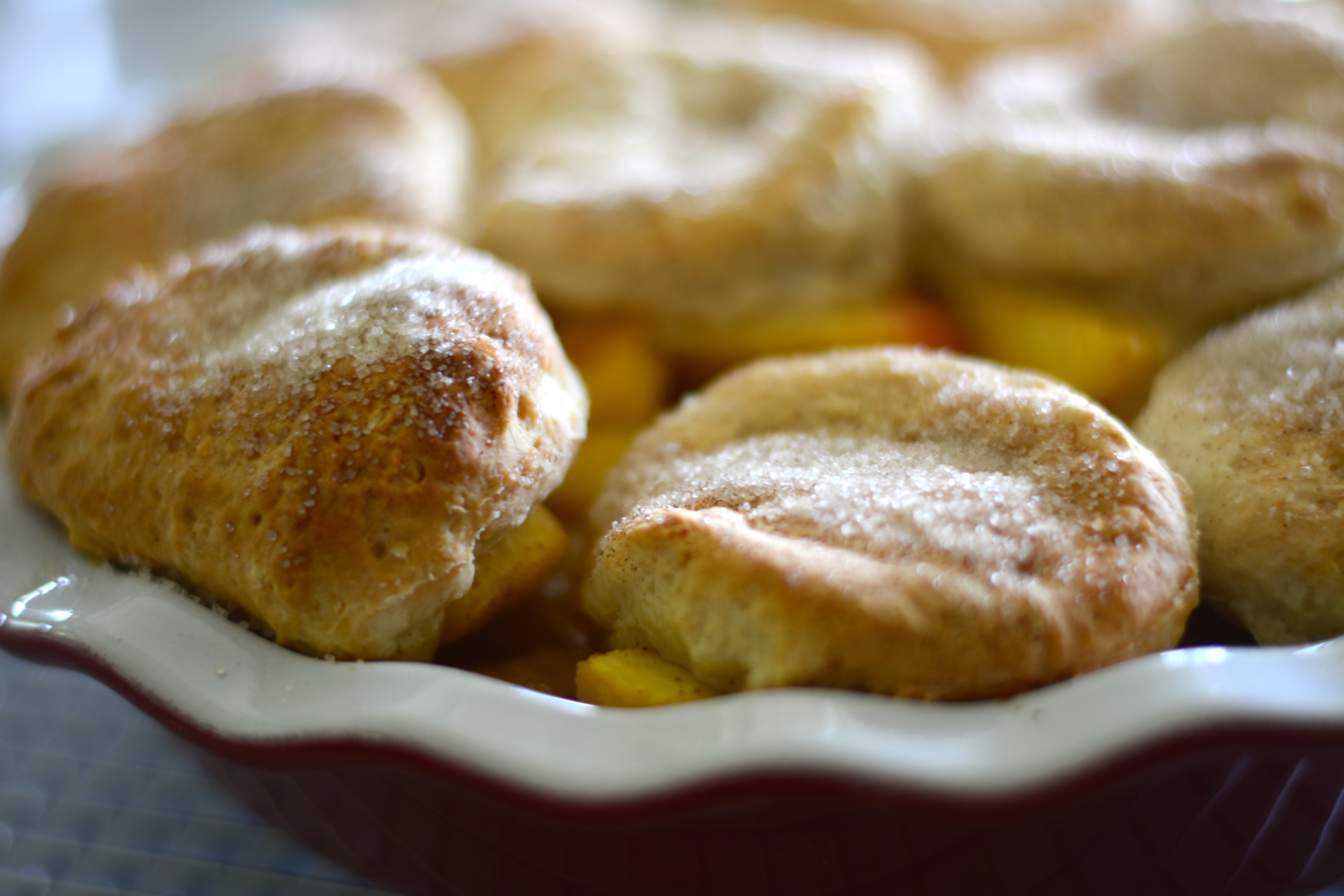 Filling Ingredients
12

peaches, peeled and sliced

1 tsp

lemon juice

1/2 cup

sugar

1-2 tbsp

cornstarch (use 2 if peaches are really juicy)

1/4 tsp

salt

1/4 tsp

nutmeg
Biscuits Ingredients
2 cups

flour

2 tsp

baking powder

1/4 tsp

baking soda

1 tsp

sugar

1/2 tsp

salt

1 stick

cold unsalted butter, cut into small pieces

3/4 cup

buttermilk plus 1-2 Tbsp if necessary

1 cup

candied ginger, chopped

2 Tbsp

sugar

1/2 tsp

cinnamon
Directions
Toss the peaches with the lemon juice.
Whisk together the dry ingredients and then add to the peaches and toss until fully incorporated. Set aside and begin making the biscuits.
Whisk first set of dry ingredients together. Add the butter and mix with a pastry blender until it resembles coarse meal.
Stir in buttermilk until batter hold together. This is where you may need little more buttermilk.
Once the batter can be formed into a ball, place on a floured surface and roll dough out until it's 3/4" thick.
Take the chopped candied ginger and sprinkle on top of dough and then roll gently into dough until it's ½" thick.
With a biscuit cutter, stamp out your biscuits.
In a buttered 9-inch pie plate add the peaches and then arrange your biscuits on top.
Sprinkle with sugar and cinnamon.
Place in middle of oven and bake for 30-35 minutes until biscuits are golden brown and the filling is bubbling.
Serve immediately with whipped cream, ice cream or all by itself and enjoy!
Prep time:

25 minutes

Cook time:

30-35 minutes

Total time:

1 hour
Yield: 8 servings