Easter Pie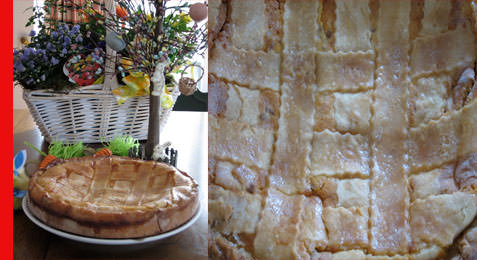 Pastry Ingredients
2 cups

Flour

1 pinch

Salt

1

egg

1

egg yolks

1/4 tsp

Lemon Zest

1/2 cup

Sugar

8 Tbsp

cold butter, cut into pieces
Filling Ingredients
1 lb

Fresh Ricotta

1

Egg

2 Tbsp

Golden Raisins

2 Tbsp

Candied Orange Peel

2 Tbsp

pignolis (aka pine nuts)

1/2 cup

Sugar

2

egg yolks

1 cup

cooked Aborio rice

1 Tbsp

Grated lemon Zest
Pastry Directions
Combine dry ingredients.
Add the butter, working it until it is the consistency of coarse meal.
In another bowl, beat the egg and yolk lightly, stir in lemon zest and pour into flour mixture.
Using a fork or fingers, combine until well incorporated.
Make dough into two balls with one using about 2/3rd of dough and the other with 1/3.
Wrap in plastic and let rest in refrigerator for an hour.
Filling Directions
Preheat oven to 350 degrees.
Mix ricotta, sugar, egg, lemon zest and 1 egg yolk until well-combined.
Fold in the raisins, pignolis and candied orange peel.
Assembly Directions
Butter a tart tin with removable bottom (can also use a pie plate).
Place large ball of dough on floured surface and roll to fit in the tart pan with some extra dough hanging over the edge. If you end up with any holes - DO NOT PANIC - this dough is very easy to patch!!
Pour filling into tart pan lined with dough and place in refrigerator while rolling the small dough ball.
Roll the 2nd dough ball into a rectangle about 9 X 11. Cut it into 1/2 inch strips. Cover the filling with strips creating a lattice pattern. Fold the edges of the bottom crust over the lattice edges and crimp together.
Whisk the remaining egg yolk with a tsp of water. Brush the edge of the dough and the lattice being careful NOT to get on the filling.
Place in center of the oven and bake for 45-60 minutes until golden.
Cool, refrigerate and then enjoy!
Prep time:

35 minutes

Cook time:

45-60

Total time:

1 hour & 40 minutes
Yield: 15-20 servings